Mui Ngo Gai fit the bill with a 12 midnight closing time. Located along Kingsway just past the intersection with Victoria (heading "South"), with street and side-street parking available. I think there also might be parking behind the restaurant, but we parked on the side street. Just two doors down is another Vietnamese pho place, but 24 hours. I think we'll try it another time :) It certainly seemed like a favourite for a lot of police, because there were 2 squad cars and a van's worth sitting inside waiting for food! Haha.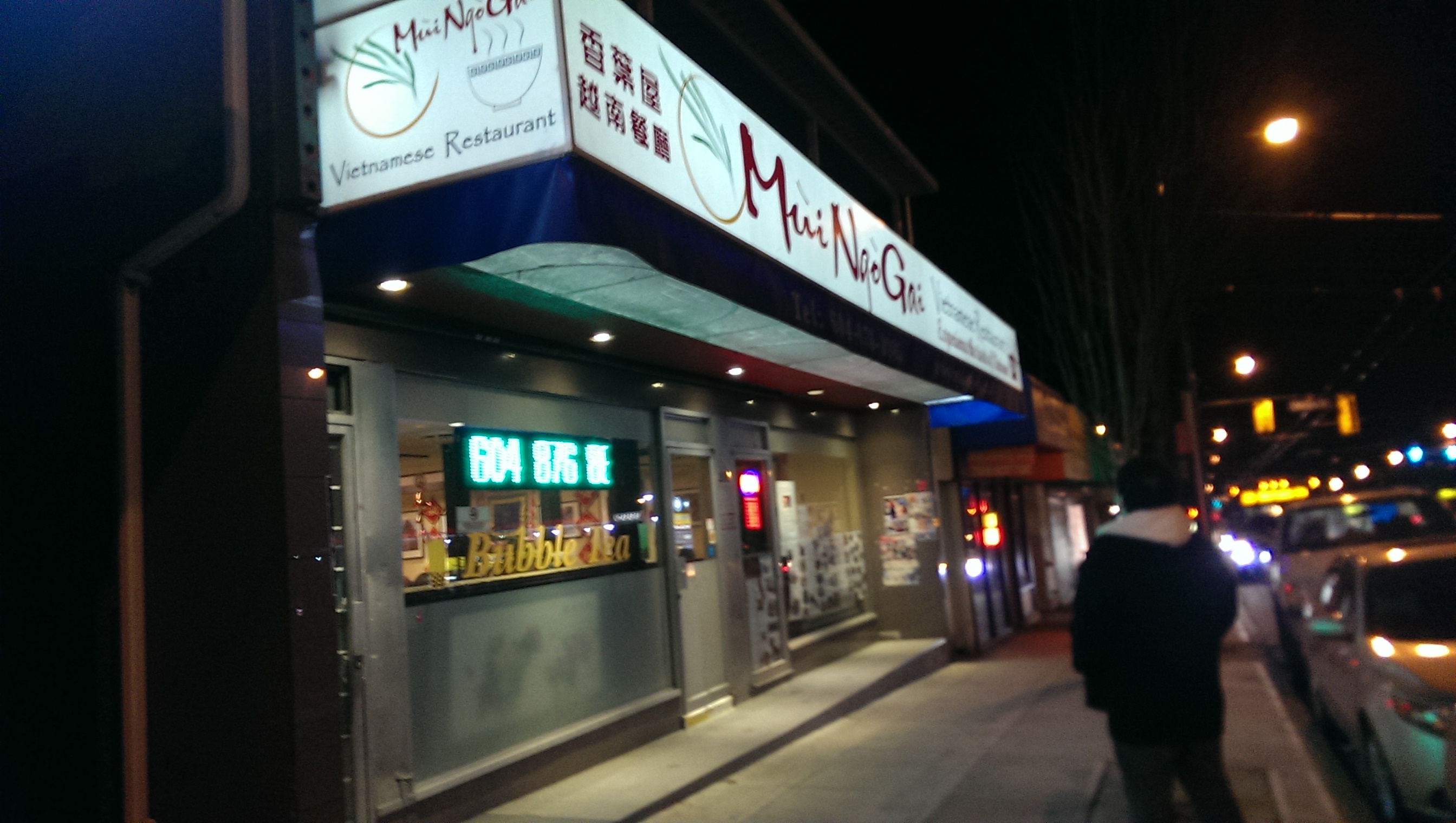 Inside was well-lit, with photos scattered on the walls with accolades and tidbits about the restaurant and the owner posted. They had recently celebrated the lunar new year and thus their red banner was still up, along with other decorations. The restaurant offers a TV (the show "Elementary" was playing) and free wifi available for its patrons. There was only one woman in the front so service was a little slower since it was busier than I thought it would be. She was a little behind on clearing tables, but hurriedly got one cleaned for us and we were seated soon enough. The picture below is as we were leaving and when it was a little quieter.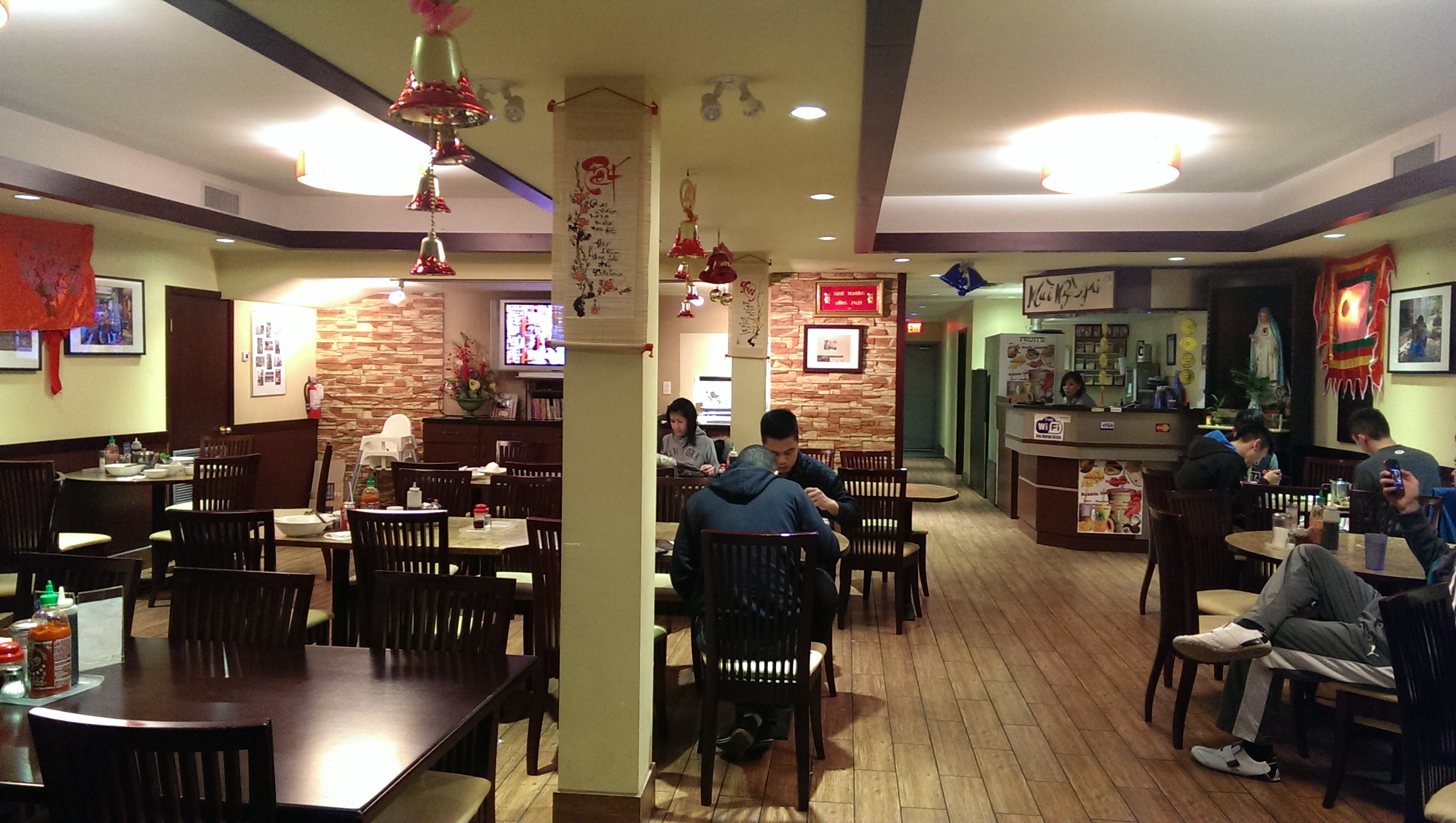 On order we had:
#1
Ch
ả
giò
Spring rolls,
#8
Đ
ậ
u hũ chiên
Crispy Tofu,
#9
Bánh b
ộ
t l
ọ
c tôm th
ị
t gói lá chu
ố
i
Steamed pork and shrimp tapioca dumpling wrapped in banana leaf,
#15
Ph
ở
Đ
ặ
c
Bi
ệ
t
Special Pho (small), and
#26
Ph
ở
chín bò viên
Pho with brisket and beef balls.
We were given the requisite Thai/Vietnamese Basil, bean sprouts, chili, and lime: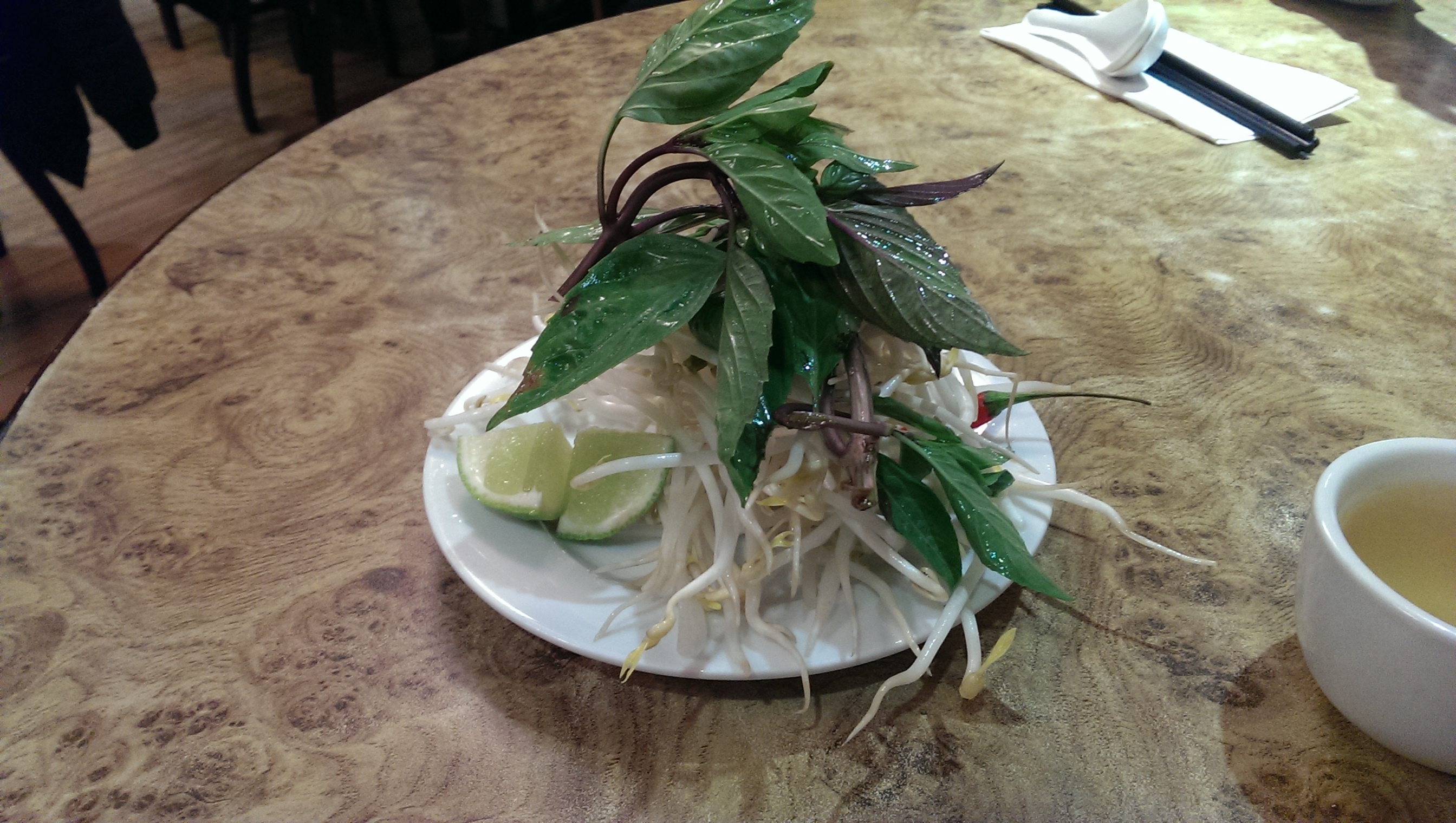 Our spring rolls arrived first with the
nước mắm
(fish sauce) accompaniment. What stood out right away was that they didn't use the rice wrapper but the more Chinese-style spring roll wrapper. So it wasn't as textured as other places, but it was still crisp and crunchy nonetheless. According to their website, they explain that they use the Chinese style because it has "the kind of crunch that customers expect".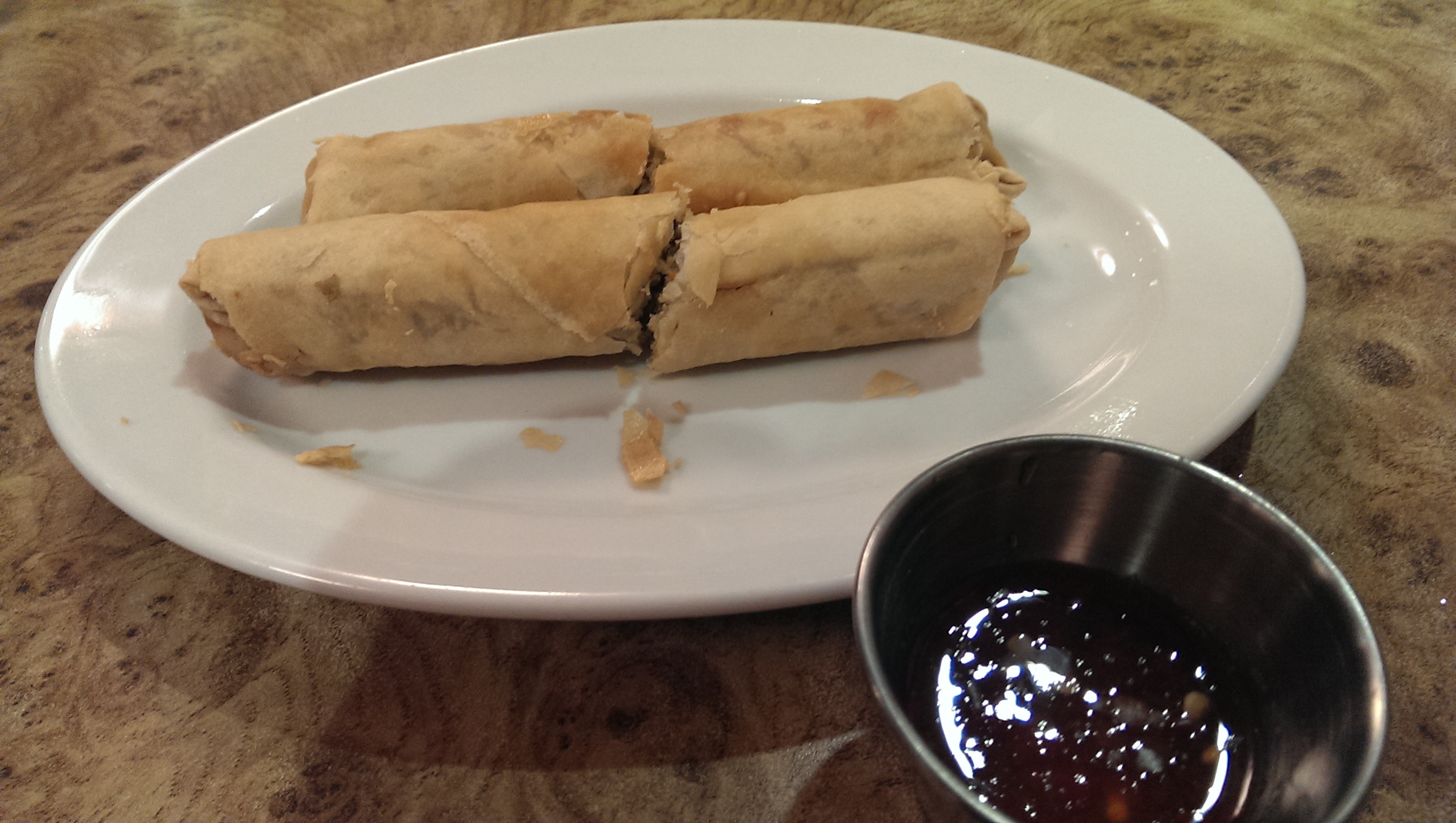 The inside was quite evenly stuffed with meat and vegetables, and the flavour was on the subtler side. I think maybe it could have used a little more seasoning, but when dipped into the sauce it really didn't matter I guess since the sauce is pretty strong. They were served piping hot, so the sauce does help to flavour and cool down the spring roll :) Anata likened them to the Filipino style spring rolls.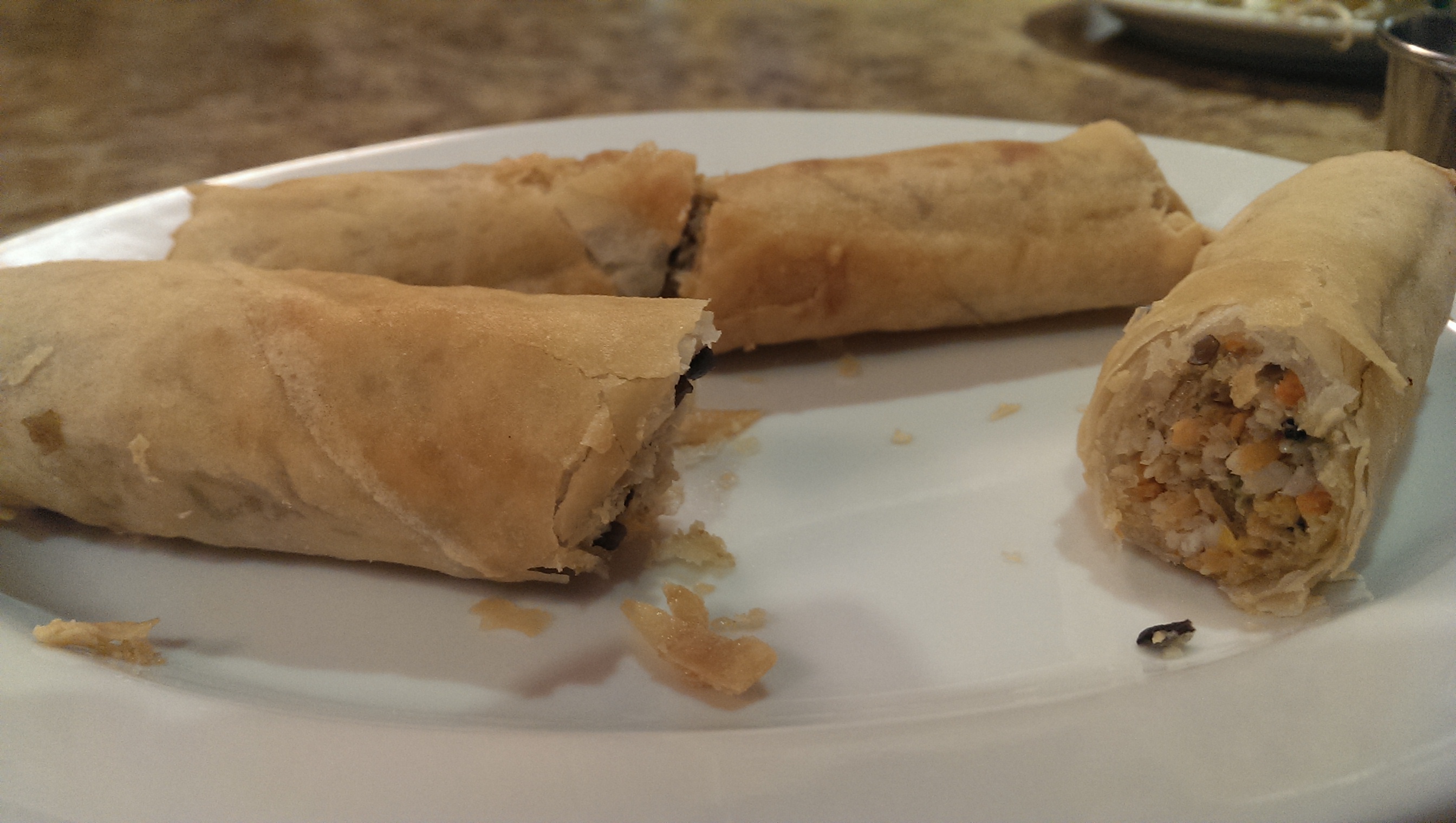 Our pho was served at about the same time as my dumplings, so I'll just go over the pho first:
Our pho came with a generous amount of onions, cilantro, and green onions on top. The amount of meat we got was pretty average, but I thought that the way the meat was sliced was very well done. The pieces were very smooth in comparison to some other places I've been, and there was a good amount of everything in my bowl. Anata kind of missed the huge beefballs from phnom penh, but otherwise he was pleased with his bowl.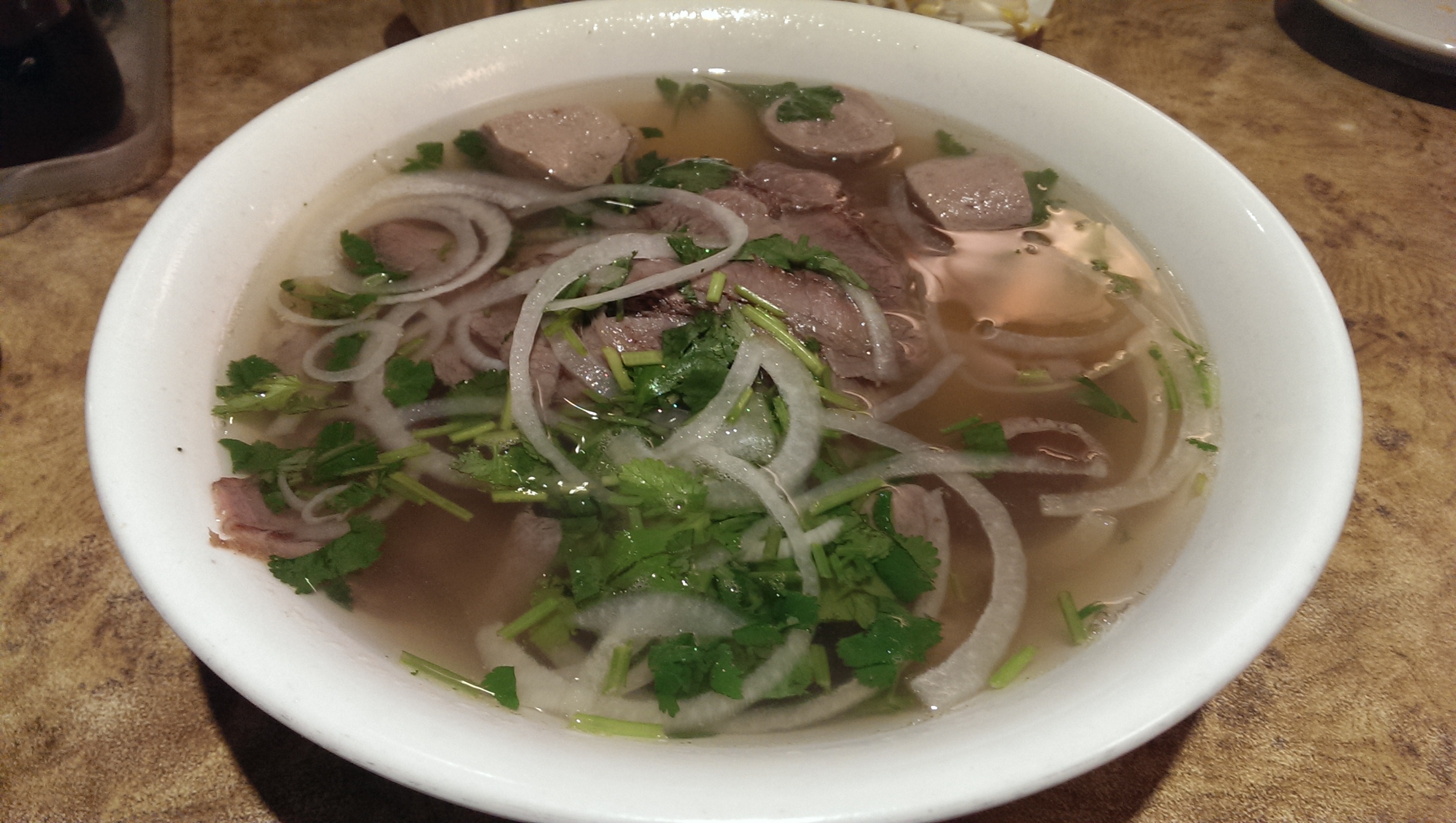 The noodles were of good quality, and had a bit of chewy consistency while being smooth and slippery enough that they did not stick together. I can't imagine how many times I've been told to eat at a place and hear rave reviews only to find the noodles in a sticky mass that I have to pick apart. The most apparent way to tell the quality of the noodles is from whether they stick together in a difficult to eat mass, or separately nicely! I was pleased to find that these did.
The soup was also very tasty and though it could have used maybe a bit more cardamon and maybe a bit of ginger, I was pleased with the taste. It was quite pure tasting and not full of MSG. Anata also thought it was well done.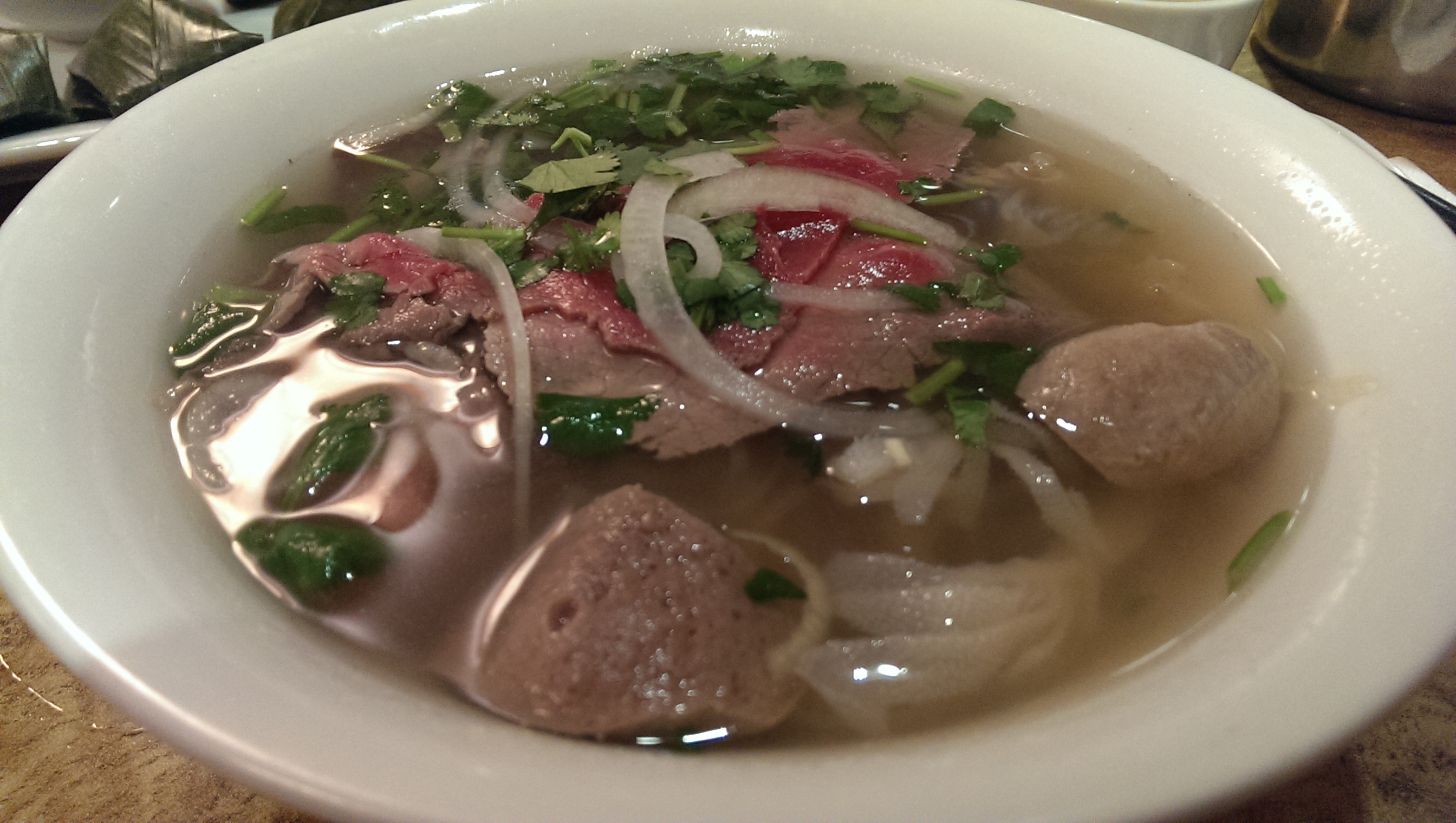 My dumplings arrived on a square plate surrounding the dipping sauce in the middle. The pieces were quite small, but there were 10 of them. They were wrapped individually in banana leaf pieces, and when I opened them there was the little dumpling nestled inside.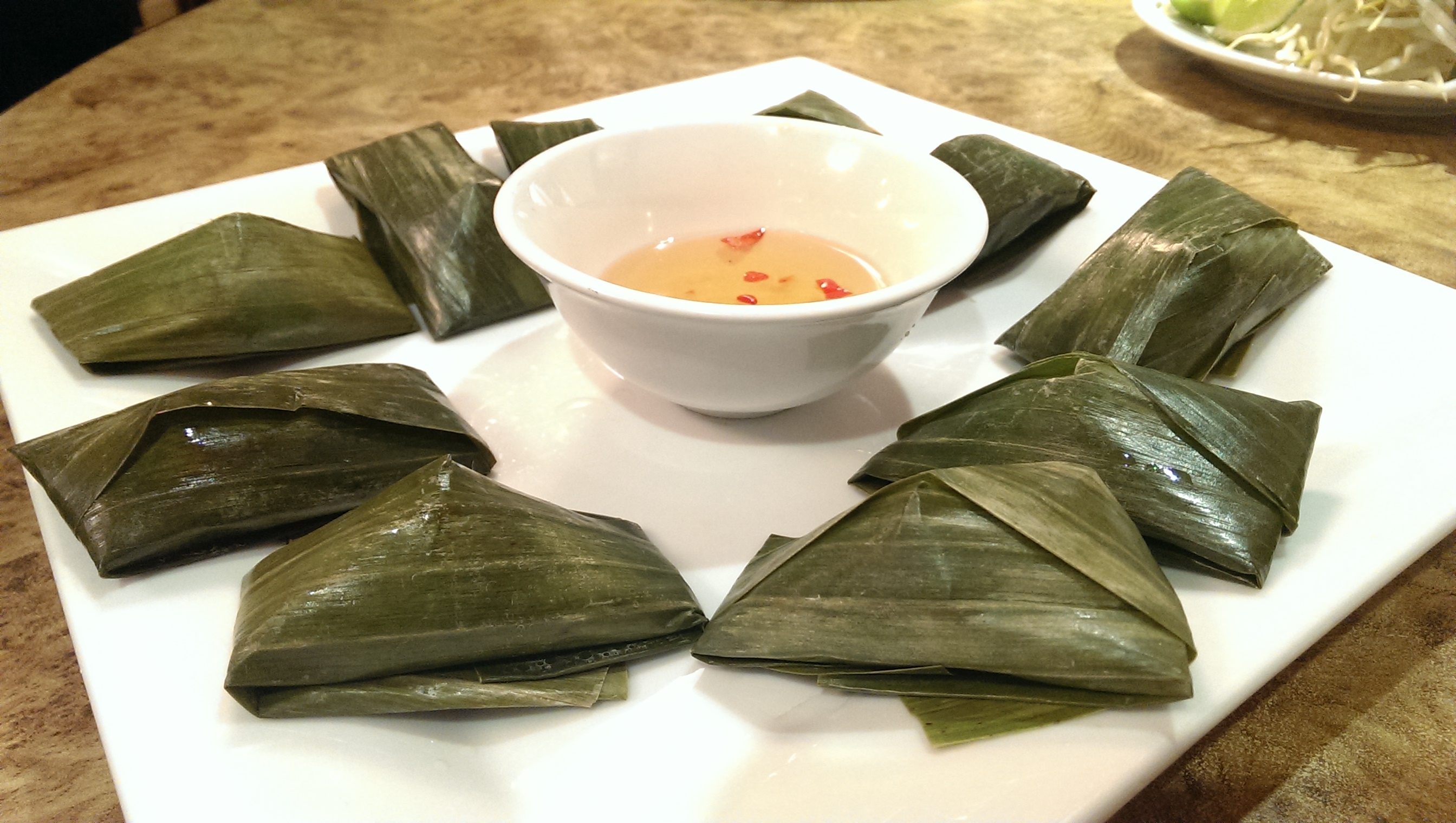 The dumplings were a bit sticky but not difficult to pick up with chopsticks. The stuffing was kind of small since the dumpling itself was so tiny. I didn't really get much flavour from the stuffing inside, and mostly I tasted the sticky and chewy tapioca wrapper. I kind of like that sort of thing, but if you're looking for more of the stuffing, I wouldn't recommend this type of dish.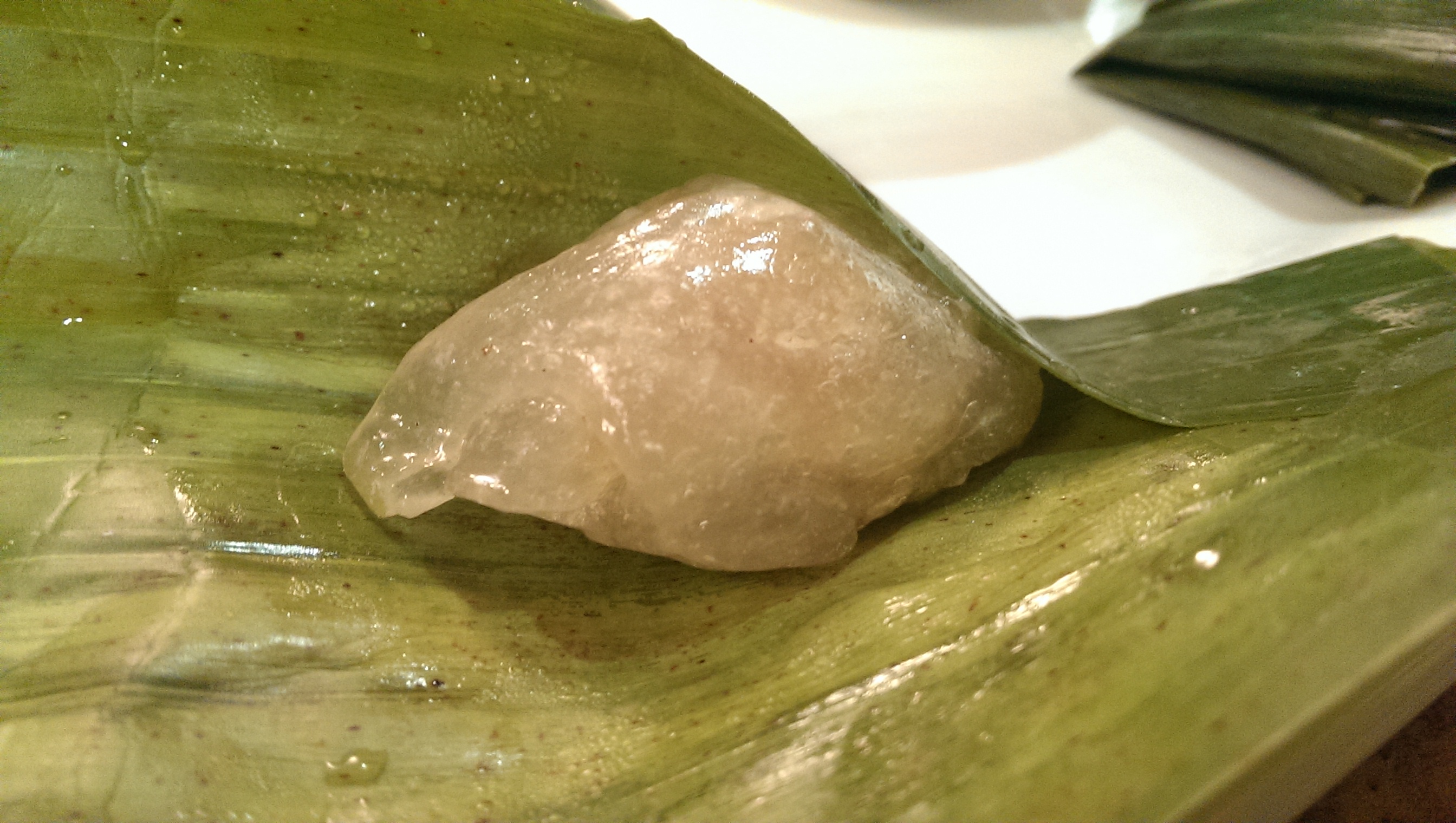 As you can see, there wasn't that much filling inside: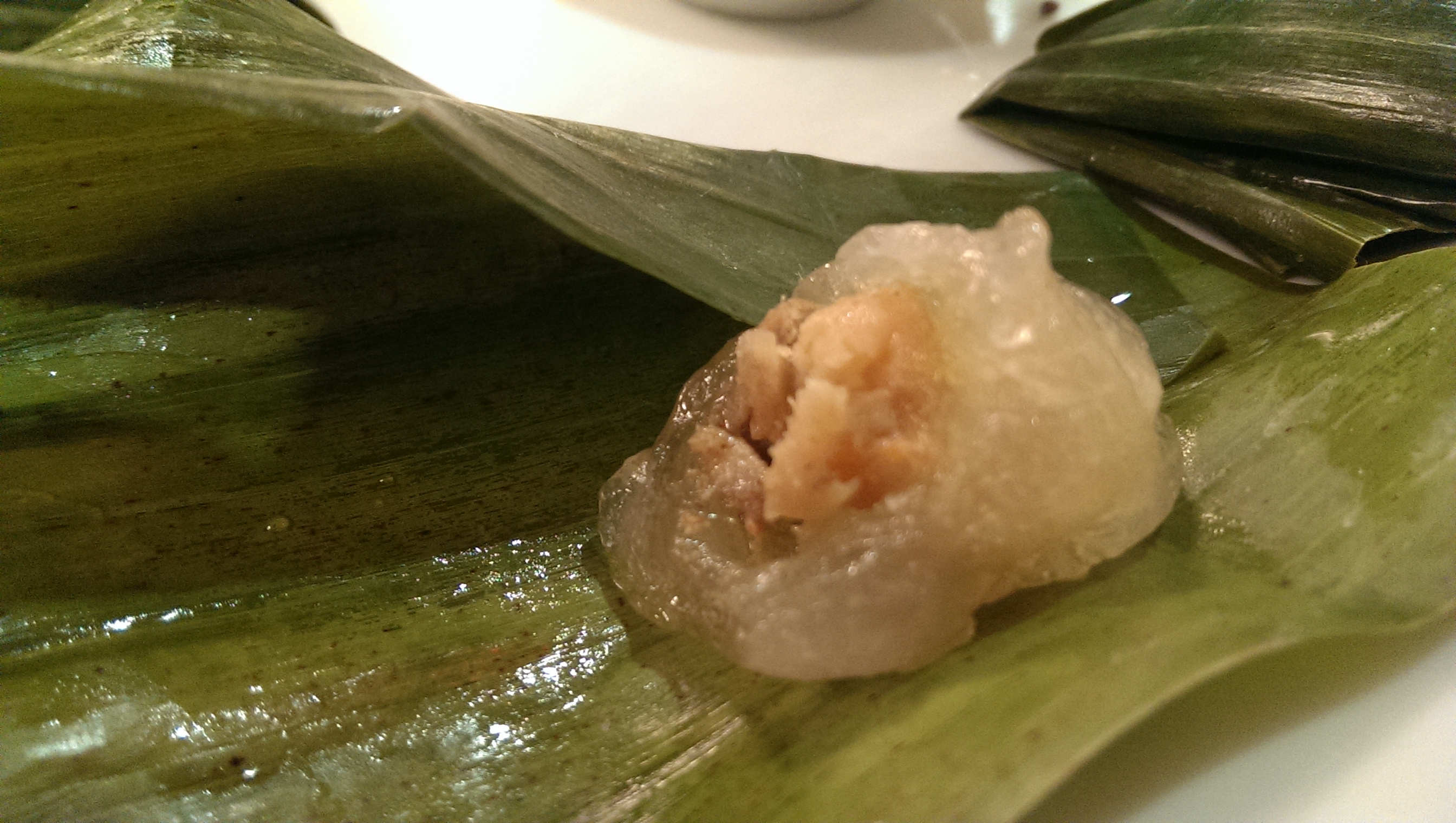 We threw in the order of crispy tofu after, so it was the last to arrive. The tofu was nice and crisp on the edges, and the inside was soft. There was a bit of texture as they used probably a hard consistency type, but it wasn't the ultra dense type. I really enjoyed the fried garlic bit on top, as that was the only thing that really lent the tofu any kind of flavour. Anata was using the spring roll sauce to dip the tofu in. There was enough fried garlic on top to flavour the pieces just enough if you wanted just a little, but as for myself I felt that there could have been more garlic on the plate, as I love the fried garlic and onion taste.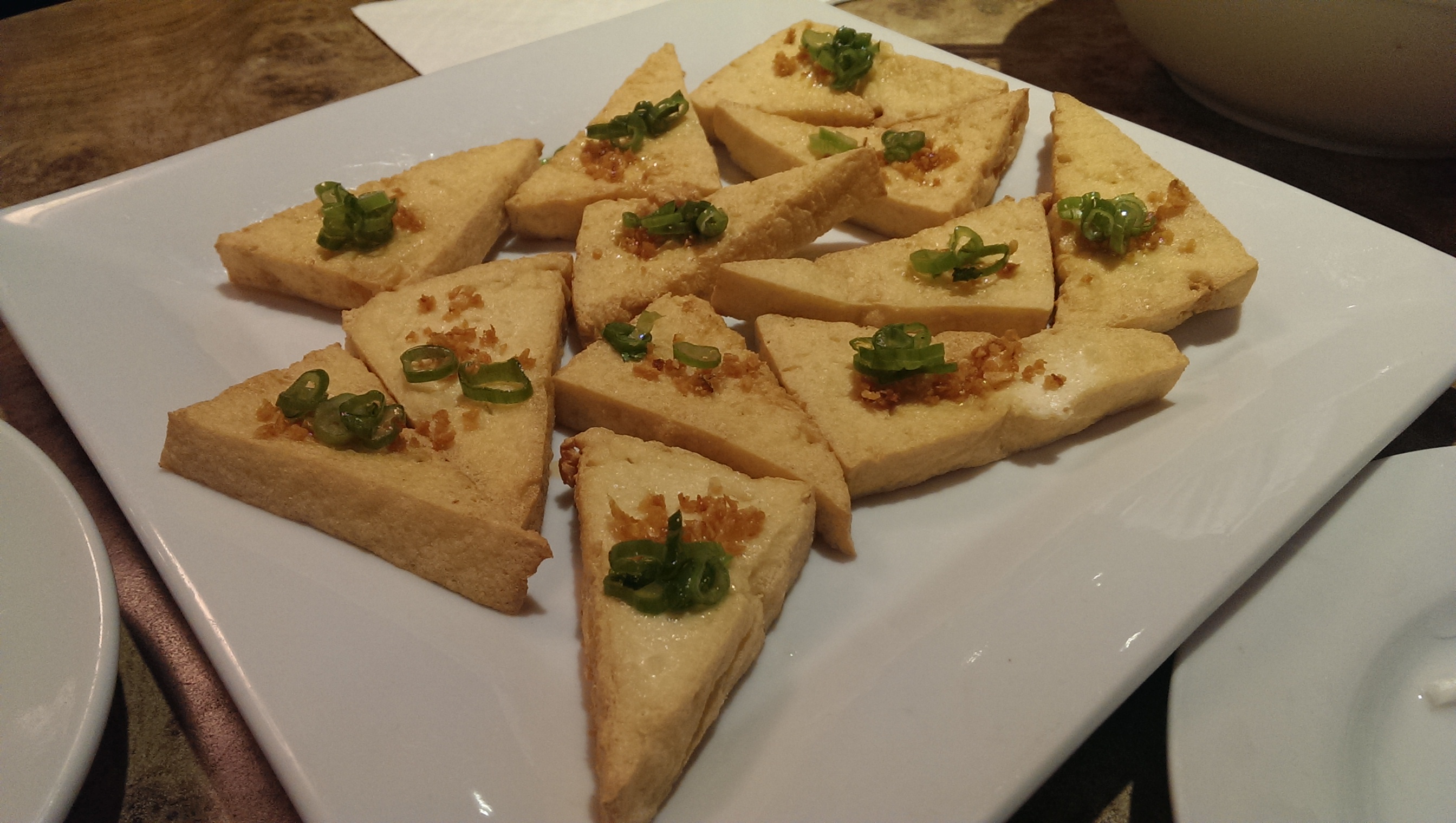 Overall we were really pleased with this restaurant. The quality of the food was very good, and the prices quite cheap and affordable (the large was $6.35 if I remember correctly - definitely under $7). The dumplings and tofu actually cost us more than the pho, since they were priced at $7.50! I'm very happy since it's open late, cheap, and good quality. There also isn't any strong MSG or additives, so definitely a winner. I'm looking forwards to going back and trying the family type soups and hot pot stuff :)
I was searching around for another late night restaurant when Mui Ngo Gai caught my eye. I've tried quite a few Vietnamese places in town, but admittedly haven't really branched out to try that many past what have become family favourites. Most of my favoured pho restaurants are usually closed by 10pm, so I was trying to find either 24 hour ones or ones open a little later for those late night pho cravings.