I called ahead to make sure there would be a table for us, but when we arrived there were only 2 tables occupied and the restaurant mostly empty. We were greeted warmly and told to pick any seats we wanted, though there was a table "reserved" for us. We decided to take the reserved one because we liked the bench and could sit side by side :) I guess it's fairly slow since it's only midweek, not a weekend or something.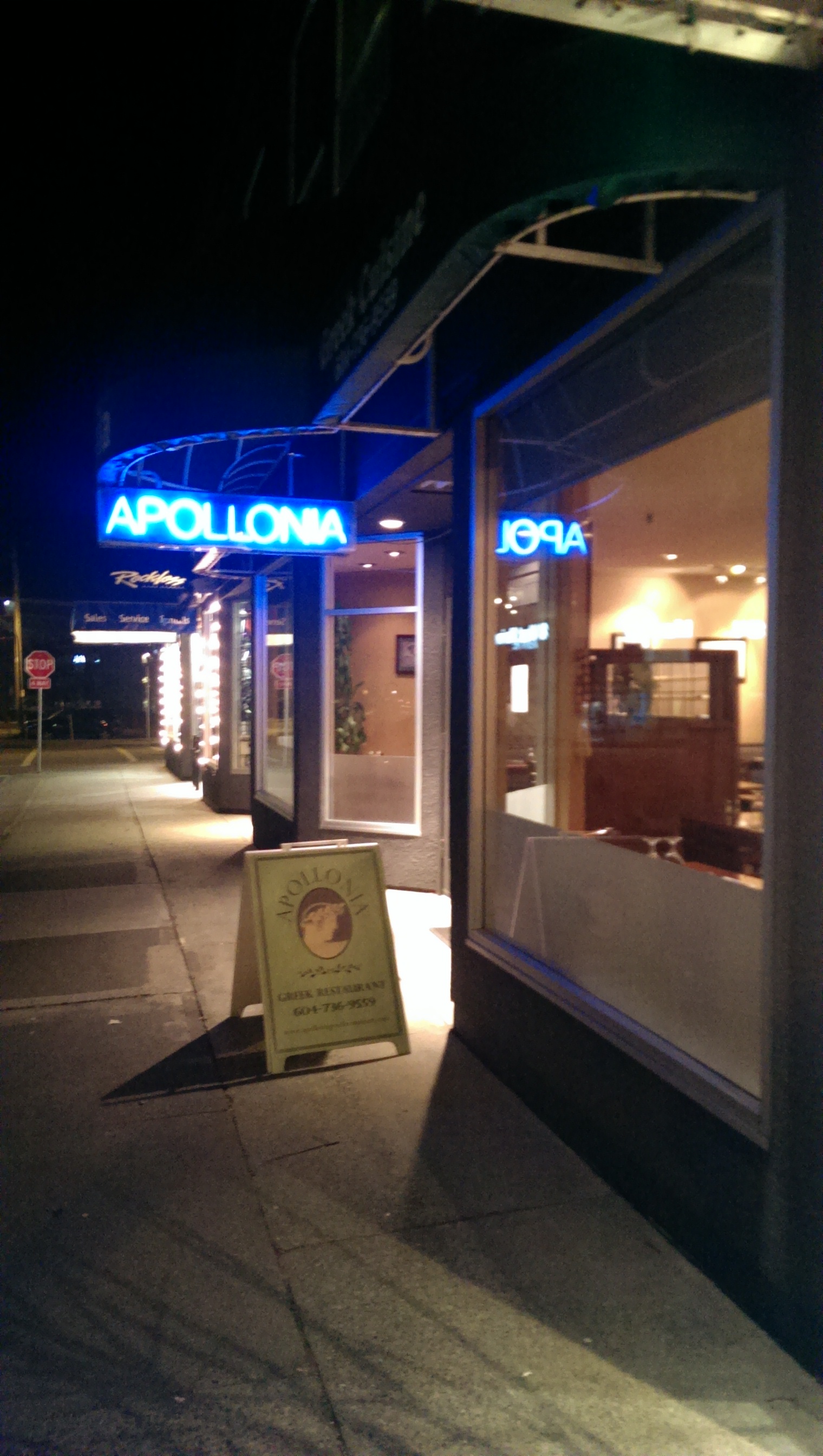 The restaurant was well-lit which I liked, and because of the brightness the little table candles didn't bother me at all. Anata was joking about blowing it out like we did at ORU, but I told him not to since it wasn't a bother with the way the restaurant was lit.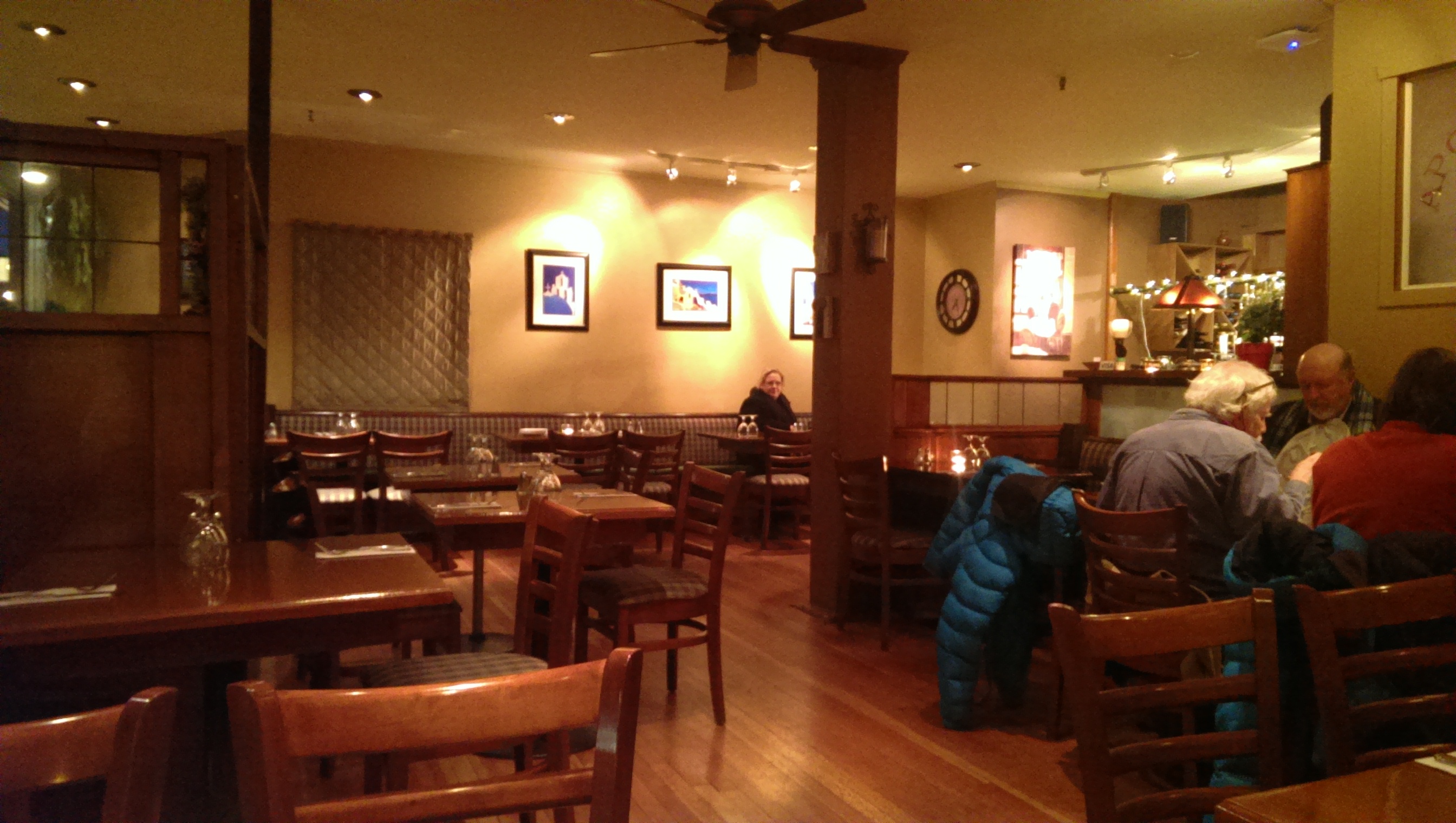 The menu on the website oddly doesn't list any prices, so I took photos of the menu as info. Urbanspoon lists it as $$ which I think is pretty accurate.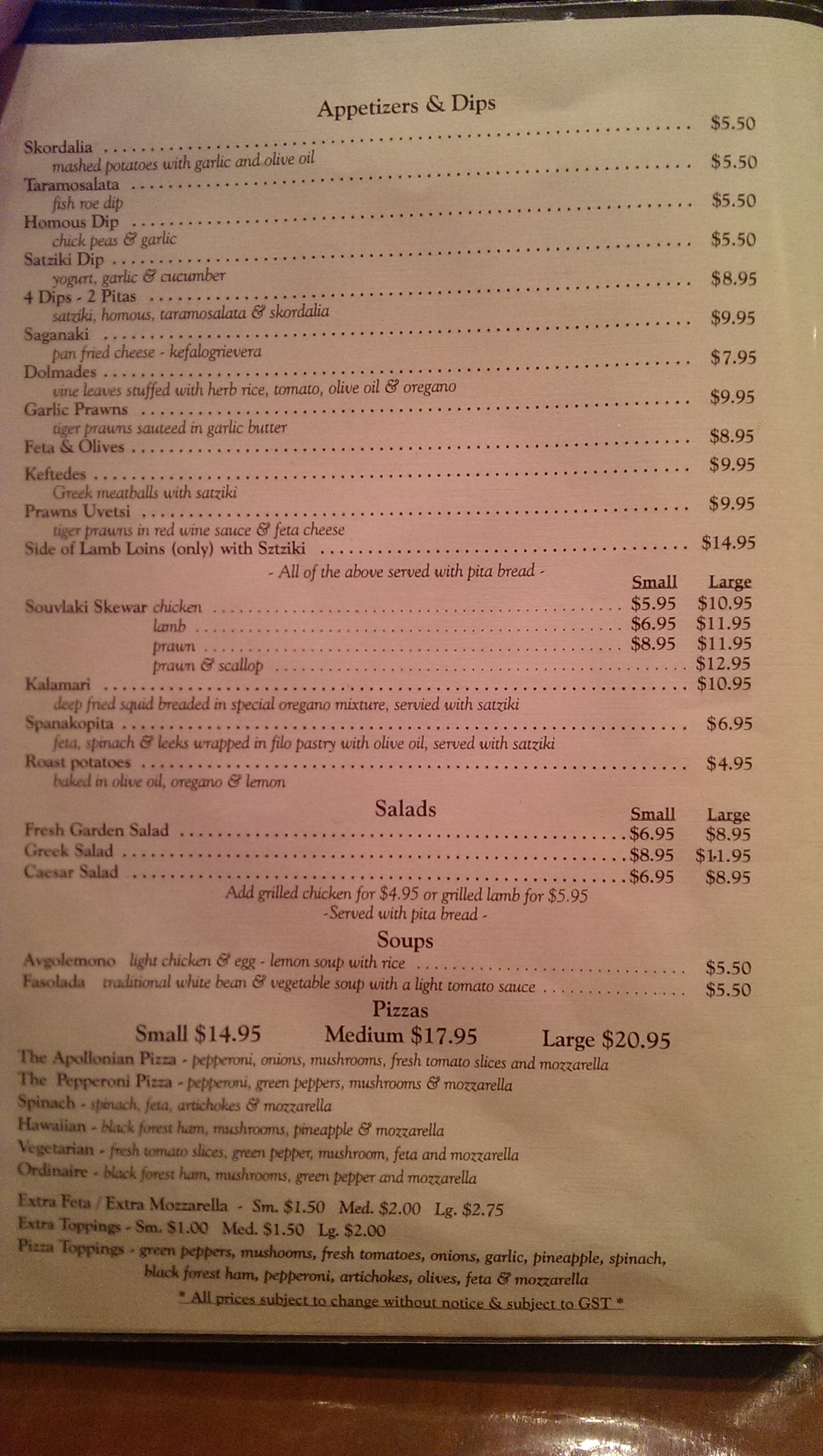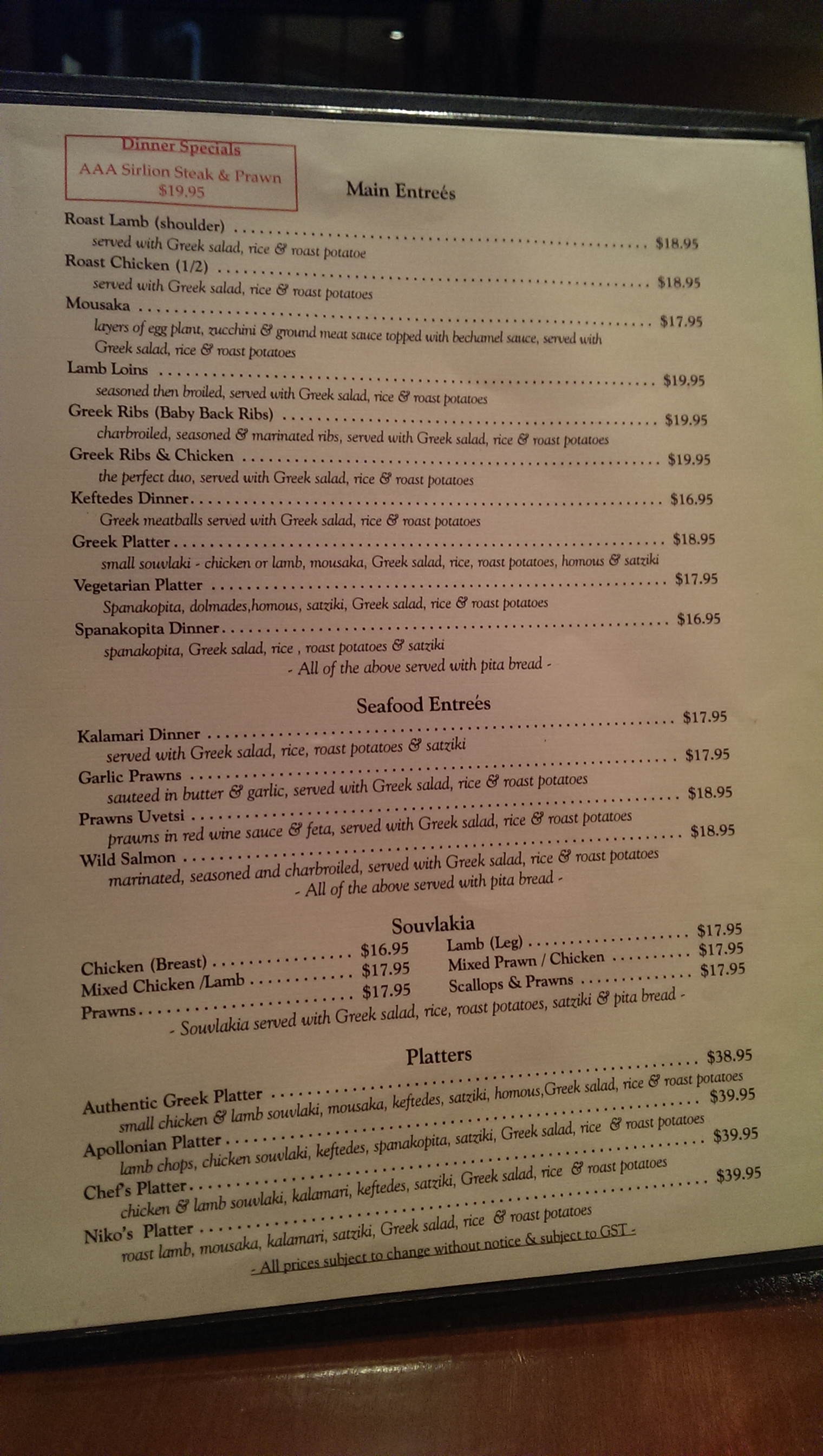 For our drinks we ordered a cranberry and soda ($2.95) and their Limonata San Pellegrino ($2.75? I think). Pretty standard. The cranberry came with a lime wedge in it.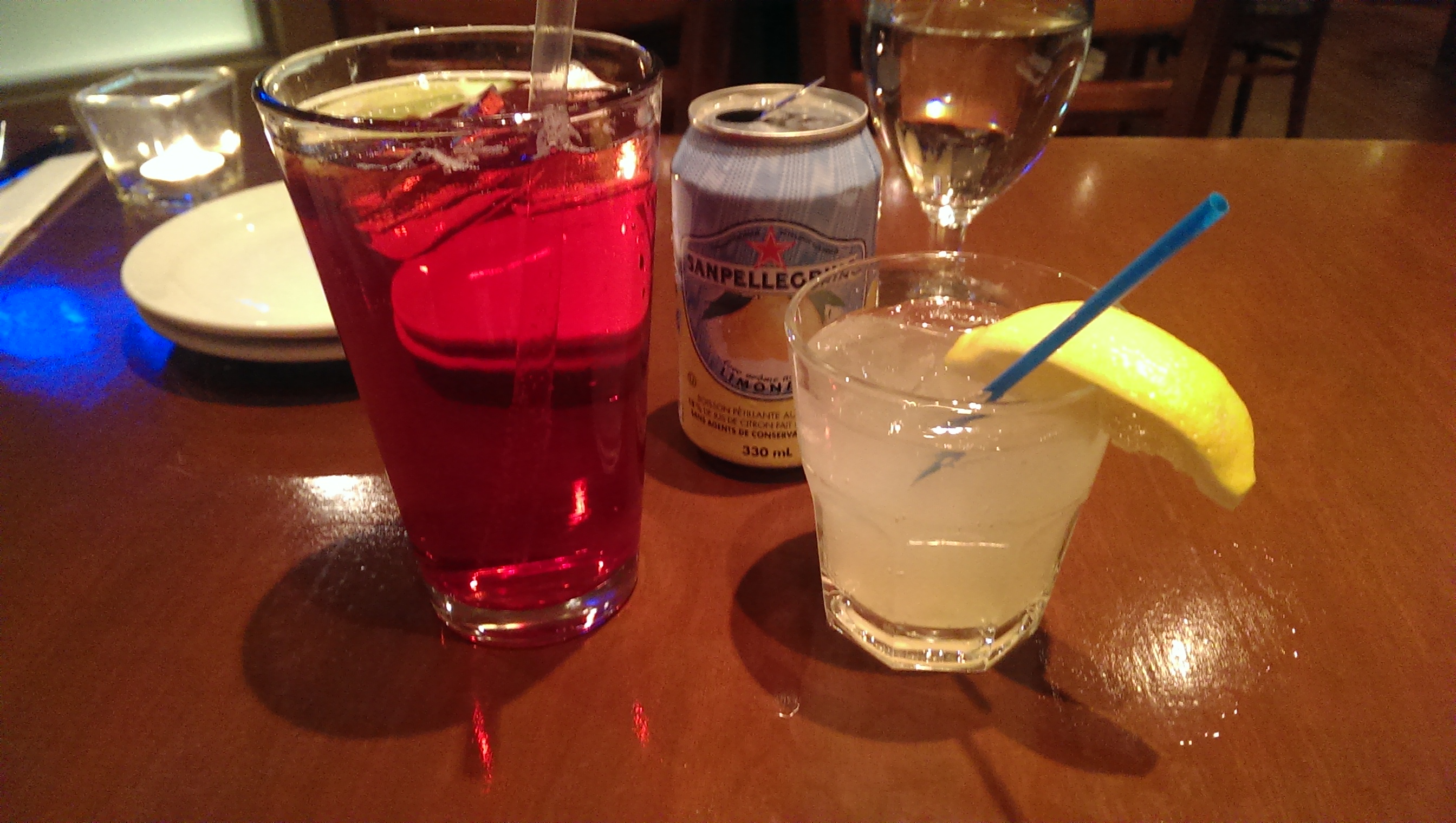 On order: saganaki, lamb loin, greek ribs, and a calamari we added on after.
The saganaki came with a lemon wedge on it, and the oil hot and spattering. I thought it really looked similar to the way paneer cheese is when it's been fried, haha. It also came with their bread which was kind of like a whole wheat thin bun that they sliced into good sized pieces. The cheese had a strong robust flavour with a heavy saltiness. I squeezed the lemon on top which helped cut through the richness and fat of the cheese.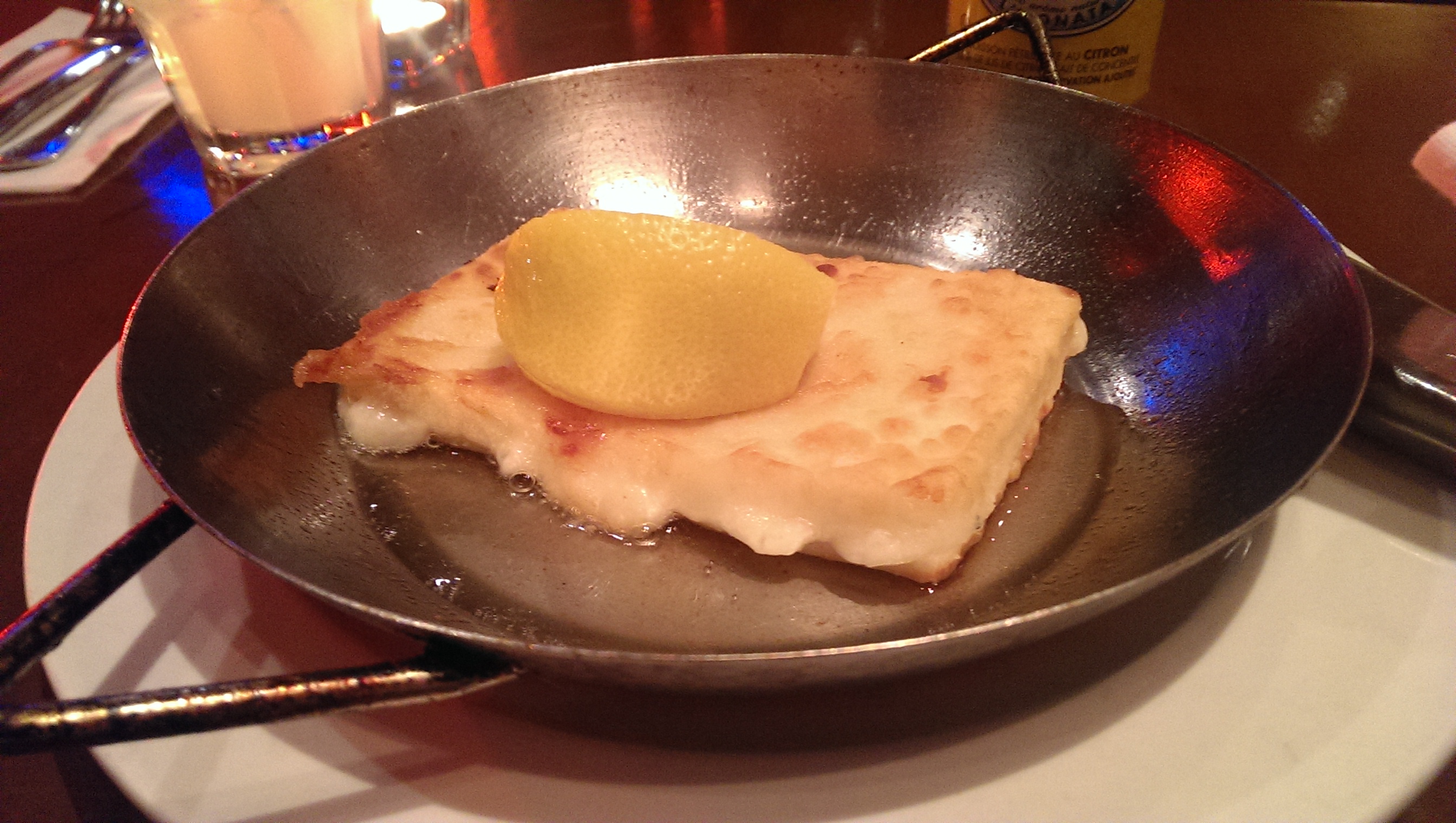 Anata liked the saganaki for not being too greasy compared to other places he's been. The texture of the cheese was pretty thick and chewy rather than meltingly gooey. Overall it was tasty, but quite salty!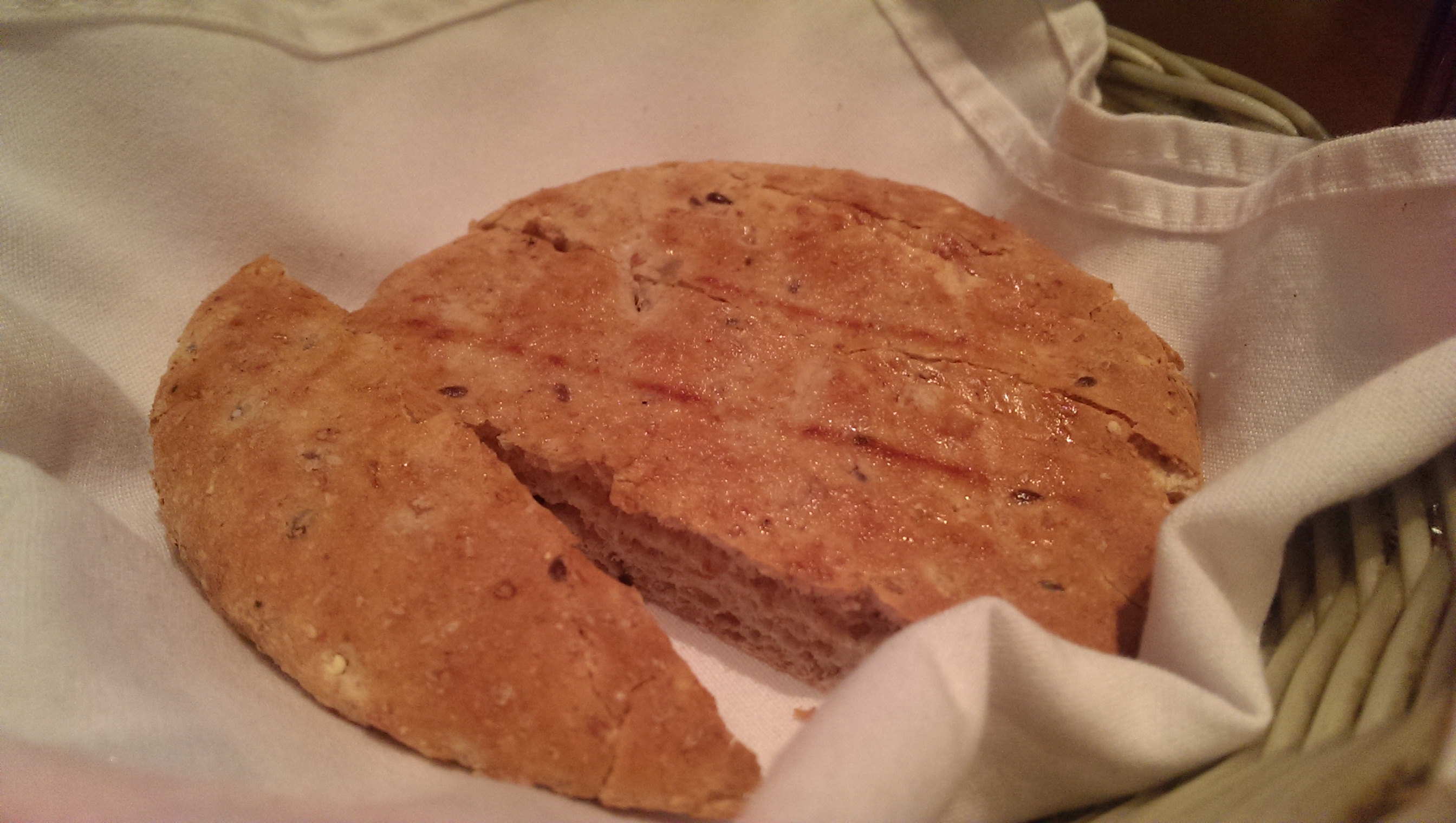 Our mains arrived with flair to the table. Anata's ribs were a little dry and crusty on the edge pieces, but towards the middle the meat was tender and juicy. They were seasoned well and though not quite falling off the bone tender, they were quite good. The sides were pretty well done too - a lot of places don't take much care for the side dishes, but I felt like all components of the plates had some good care to them. The rice wasn't dry, and the potatoes were cooked perfectly. I liked that the salad had a generous serving of fresh feta cheese sprinkled on top, and the vegetables not overly doused in some crazy vinaigrette.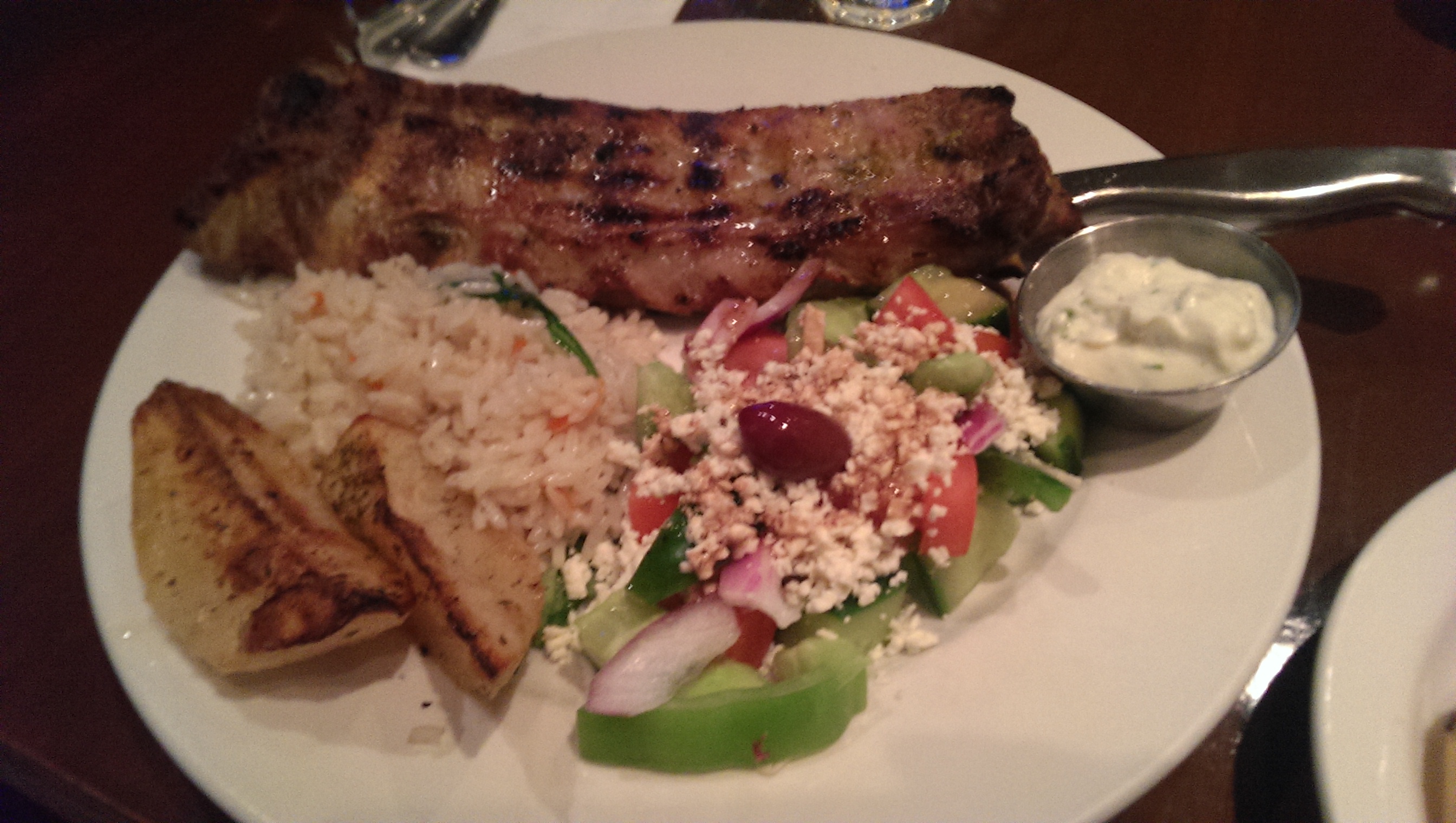 If anything, the tzatziki (or satziki as labelled on the menu) sauce was kind of redundant on the plate, as I didn't think there was anything crying out for it. Maybe to add something to the potatoes? Everything was really well seasoned as it was and there wasn't anything super dry, so we mostly put the sauce aside (except for dipping with the calamari).
I ordered my lamb medium rare and it came perfectly cooked. It was very tender and juicy, and well seasoned. I really liked the execution of how they prepared the meat and it was delicious!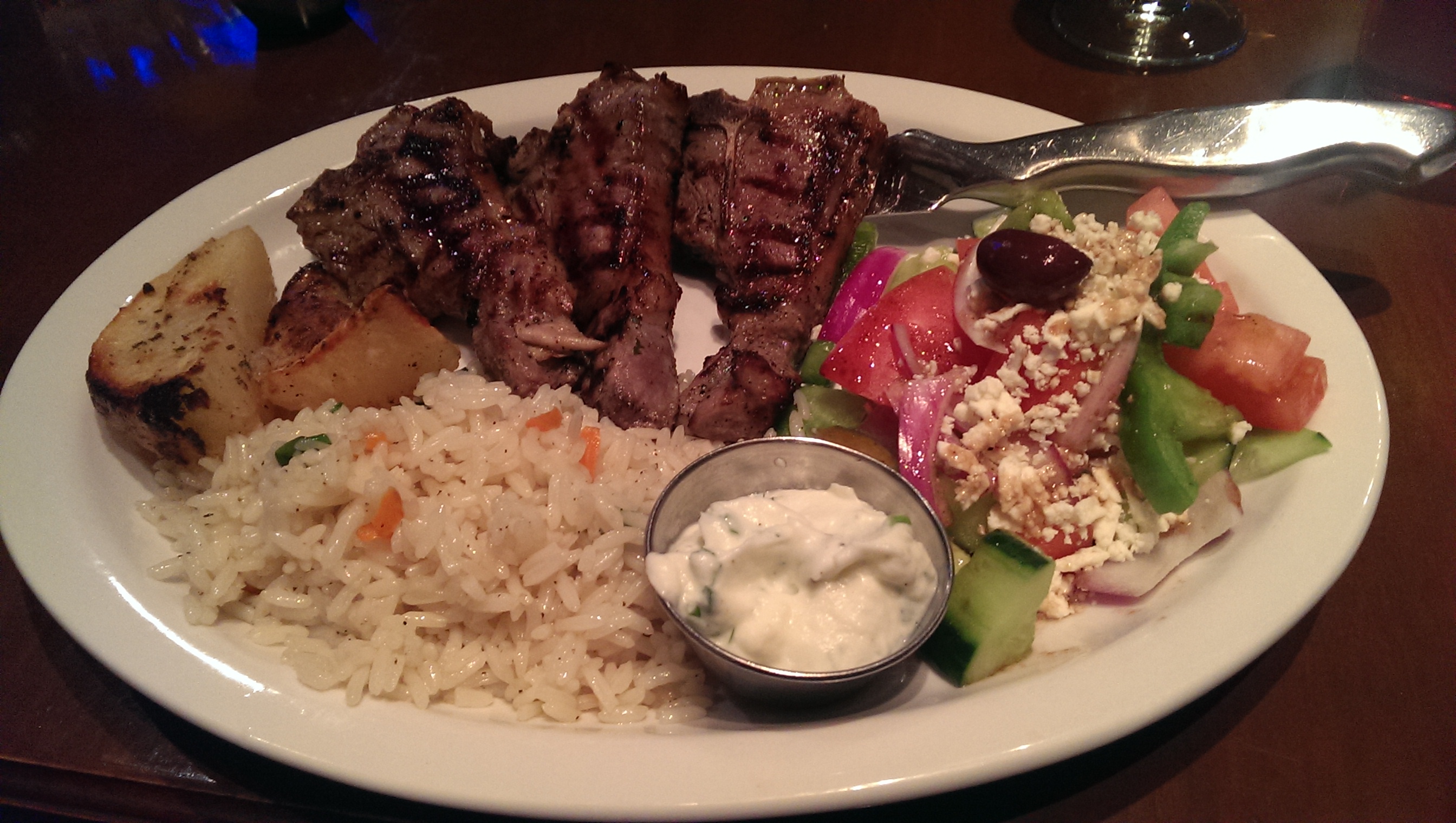 We threw in the calamari order a little late, but they were very quick to have it prepared and sent out, which I thought was impressive. Then again in retrospect it's not like they were that busy, so...
The calamari was mostly the tube bits, and none of the tentacles. Anata thought it was quite different from what we typically get when we order calamari as it was very thin and not very "meaty". The batter was done well, seasoned appropriately, and very thin. I think I'm more partial to tentacles when I eat squid, but this was okay. It wasn't too doughy or greasy, but at the same time I think it's better to stick to it as an appetizer rather than order it as an entrée.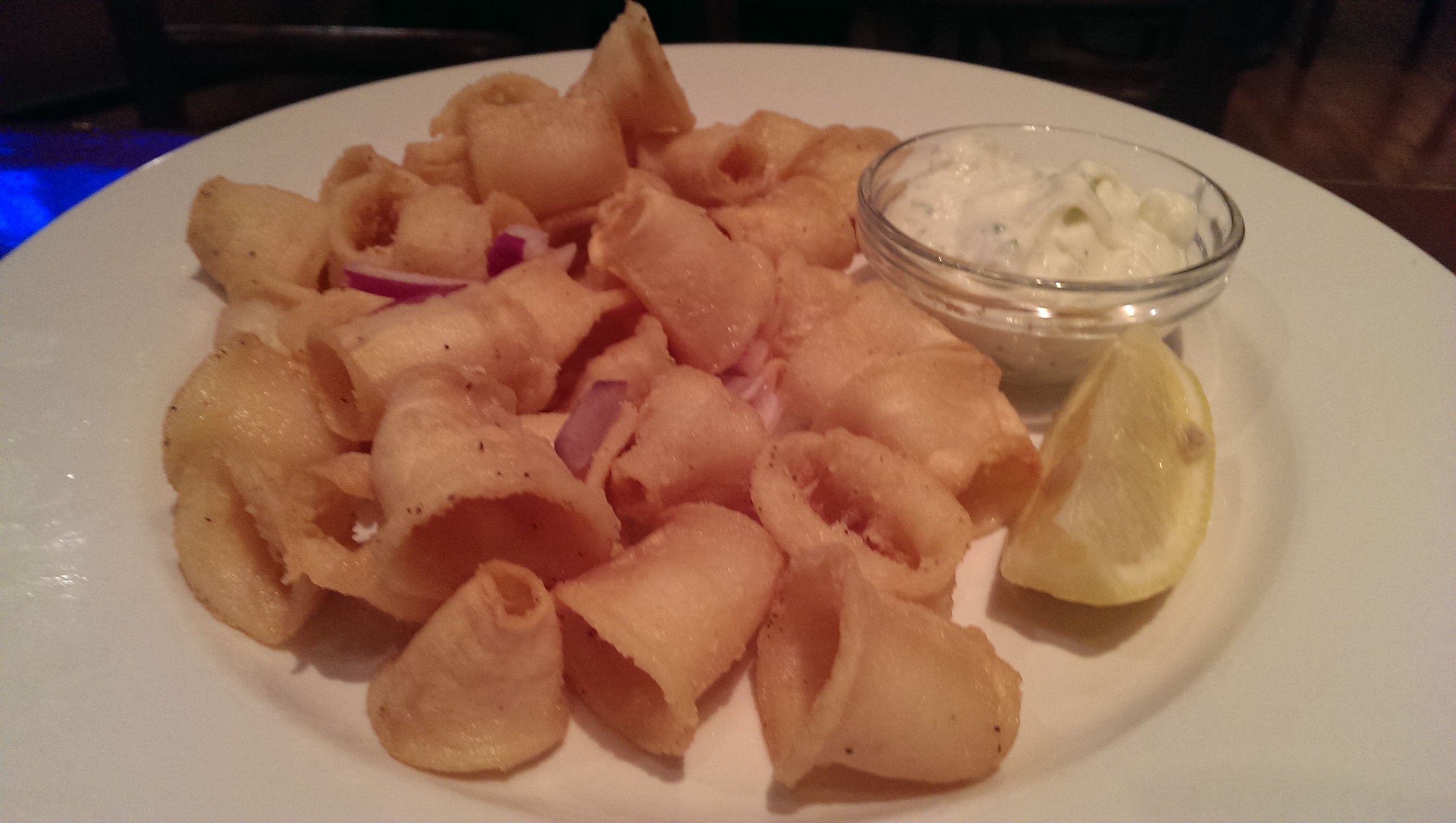 Overall we were really impressed and pleased with the quality of the food we got. The service was nice and friendly, and though it seems like a smaller kind of restaurant, it seems to provide the food and service with care. Unfortunately we live outside of the delivery zone, but the restaurant does offer delivery to a general radius covering from cambie, 13th, granville island, and almost to kits! It's not cheap, but I think it's food done well.
I was thinking we hadn't had Greek food for awhile, so I looked up places that were nearby and came up with Apollonia. Someone had actually pinned their take out menus to the billboard in the mailroom of my building, so it seemed rather fitting, haha. The restaurant is located in a rather unassuming area near Granville Island, hidden amidst the many interior decorating and design stores there. There's plenty of metred parking there and the street is nice and wide in front.