Anata and I got there a little early to hand over the cake in order to make sure it would be a surprise. Since our table wasn't ready yet, we hung around with a couple other friends at a table in the front area.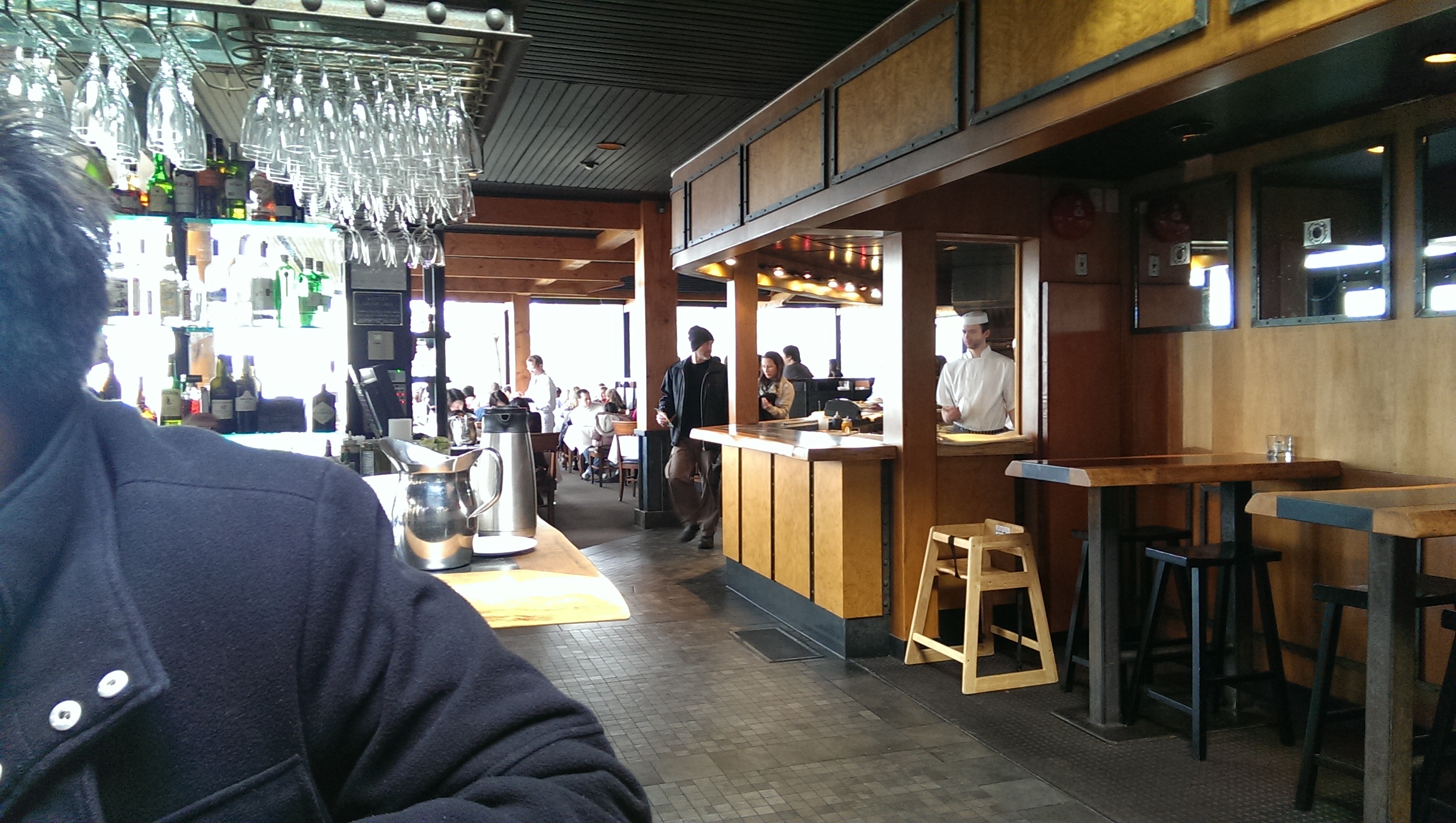 I'd never been to Seasons before, though I've spared a few passing thought regarding what it would be like to dine there when I visited Q.E park with friends. The restaurant was much more casual than I thought it would be. The Sequoia Company runs establishments in Stanley Park, Q.E park, Granville Island, and Coal Harbour, so their restaurants all feature the view and aren't necessarily concerned with having dress codes or any of those kinds of things. The interior decor had a woodsy theme, which worked well since it's situated in a park. We were admiring a hanging sculpture that looked to be created from branches that looked like they were all precariously balanced. The windows are very large and help to bring in a lot of natural light while showcasing the view. Unfortunately, it was really foggy so there wasn't much of a view until maybe when we were leaving, as the fog had started clearing a little at that time.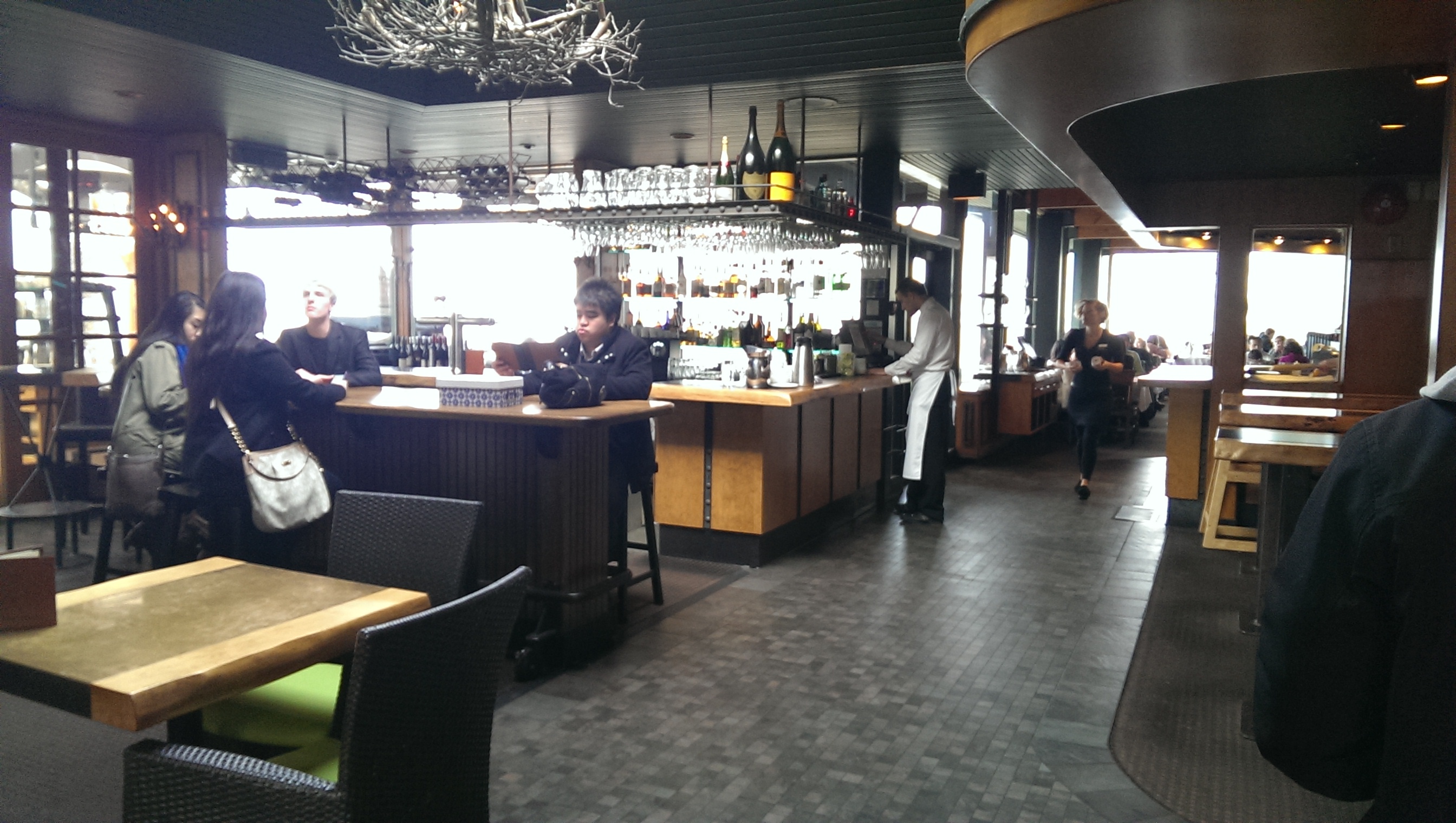 The dine out lunch menu was on offer for $28, and featured some pretty safe-sounding options. Around the table we had orders for the mushroom soup and tuna for starters, and striploins and bouillabaises for mains, with at least an order of each dessert for the table. There were a couple wine orders (pinot noir, rosé). a caesar, a virgin margarita (me), and a guiness (anata). Anata also requested for an additional order of calamari thrown on top of our dine out orders.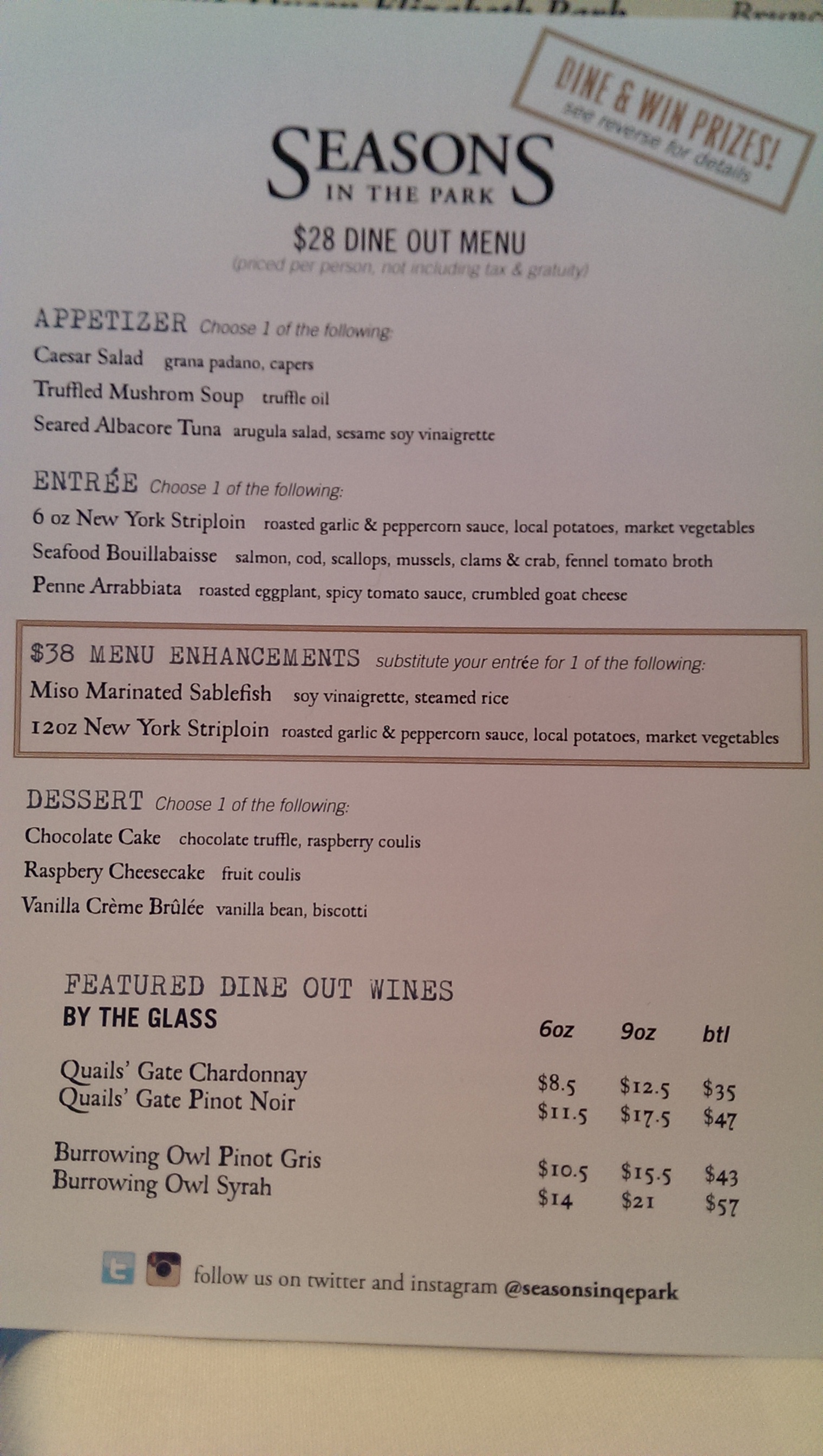 While waiting for our food to arrive, I took note of the lighting and huge chandelier in the middle of the dining area where we were seated. I think that a night time view would probably be a bit dimly lit, but that's also because strong interior lighting would take away the fantastic view outside. For the daytime there is a ton of natural light coming in front the windows and the skylight.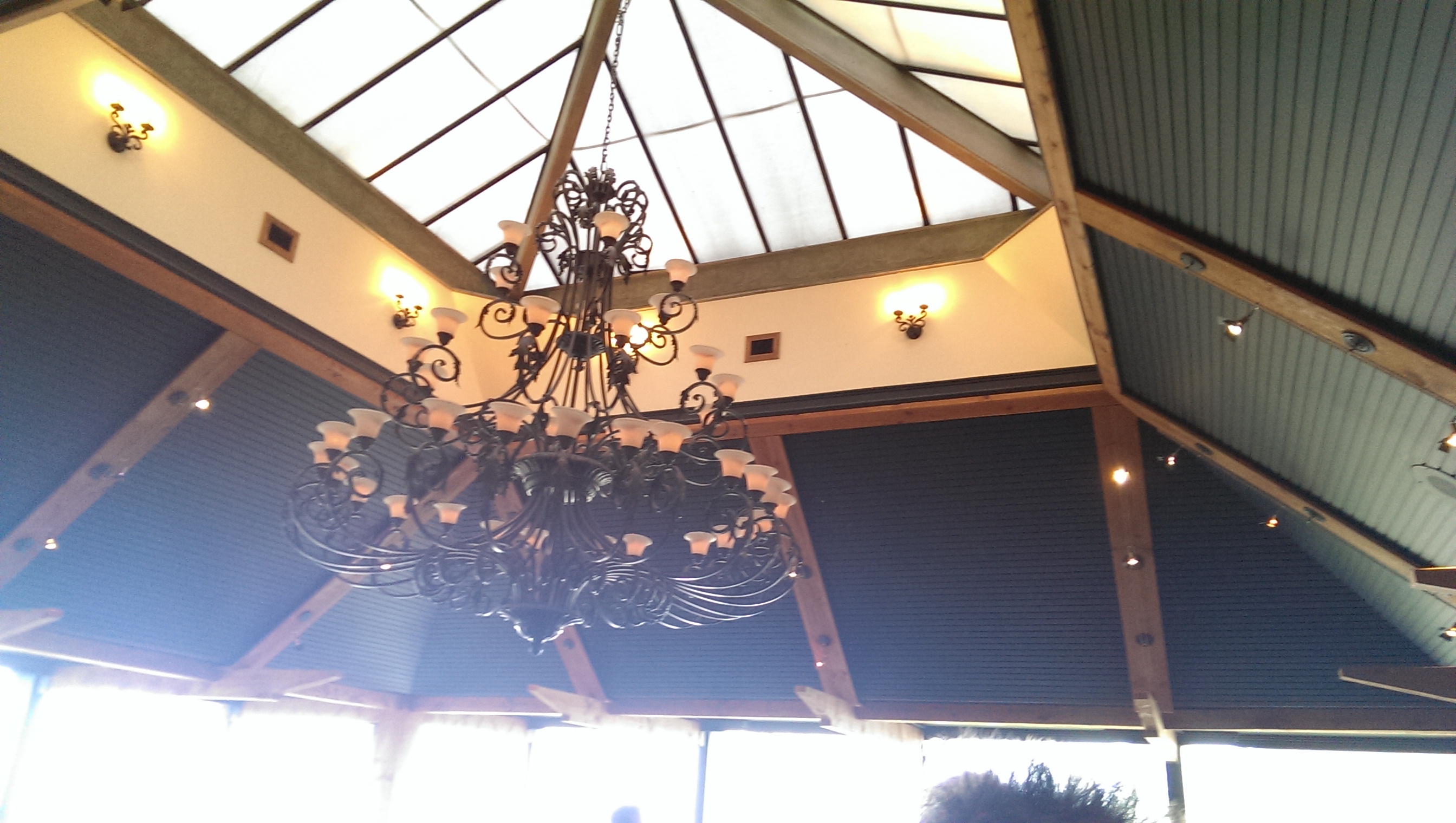 We spent our time chit chatting but also trying to swat the fruit flies that plagued our table. A friend managed to stun/kill one and it landed in her glass of water, which didn't get replaced until there was a waiter who came specifically to refill our waters. There were a few other ones that were flying around, but we were unsuccessful at our fly swatting attempts.
Our drinks: My margarita was tart and strongly flavoured. I liked it (I am a fan of tartness in flavour), but another friend commented that it was like ordering a strawberry bubble tea. Anata said his guiness was pretty standard.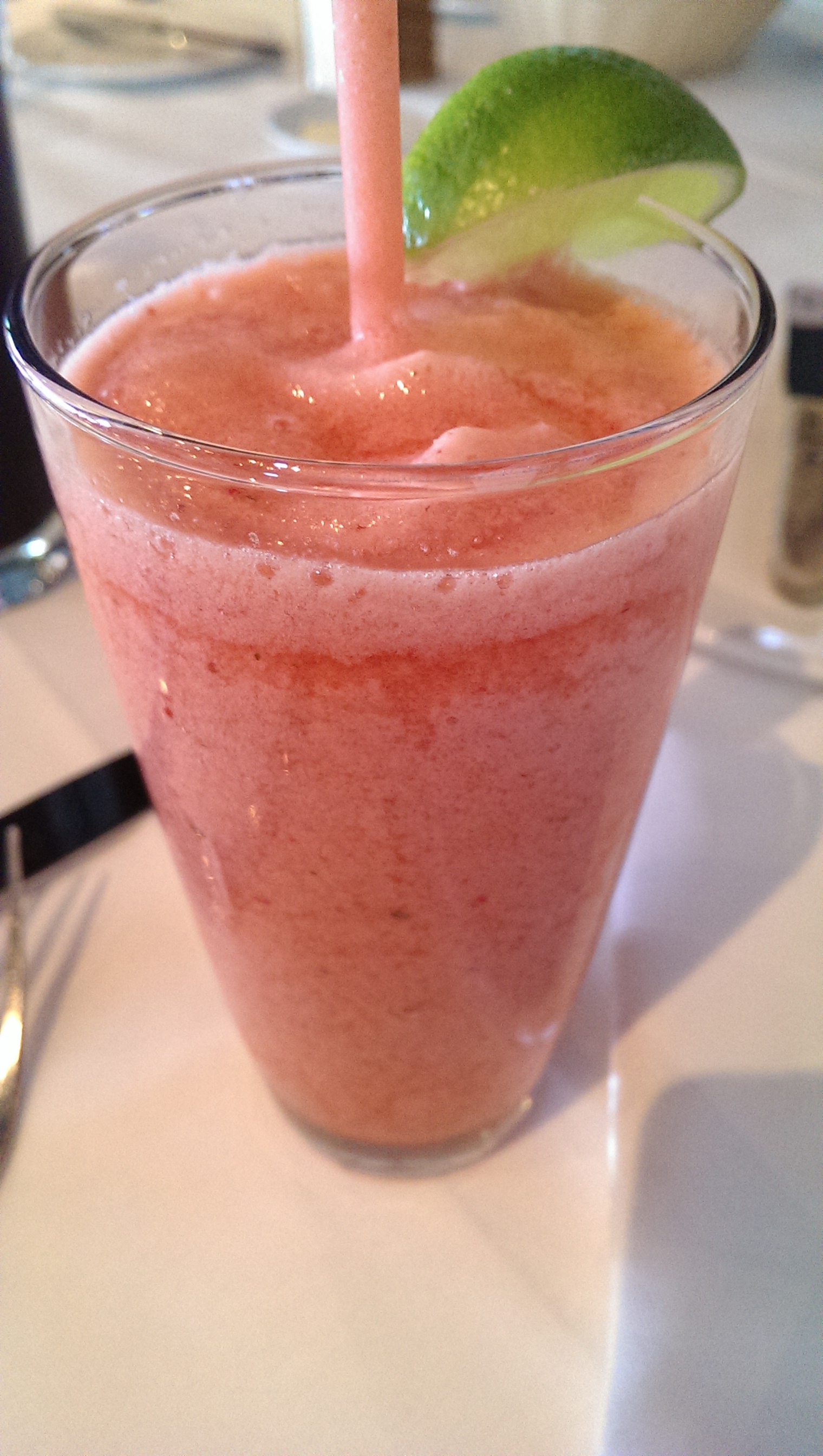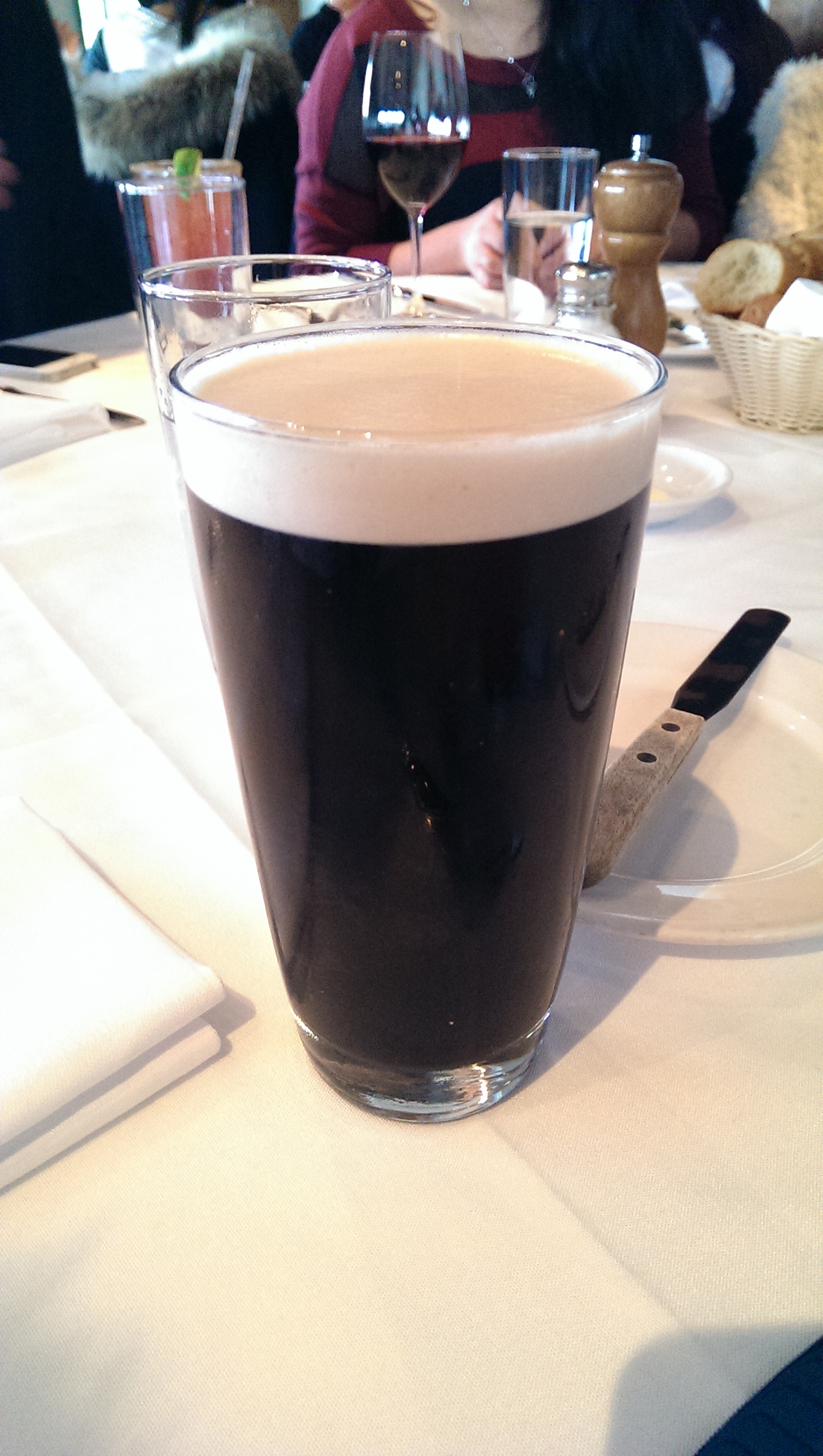 The bread was served in quite generous amounts, even with the people at the table. There was enough for everyone to have 4 pieces each I think. The bread was warmed but the butter was still a little cold and it was a little difficult to spread with the cutlery given.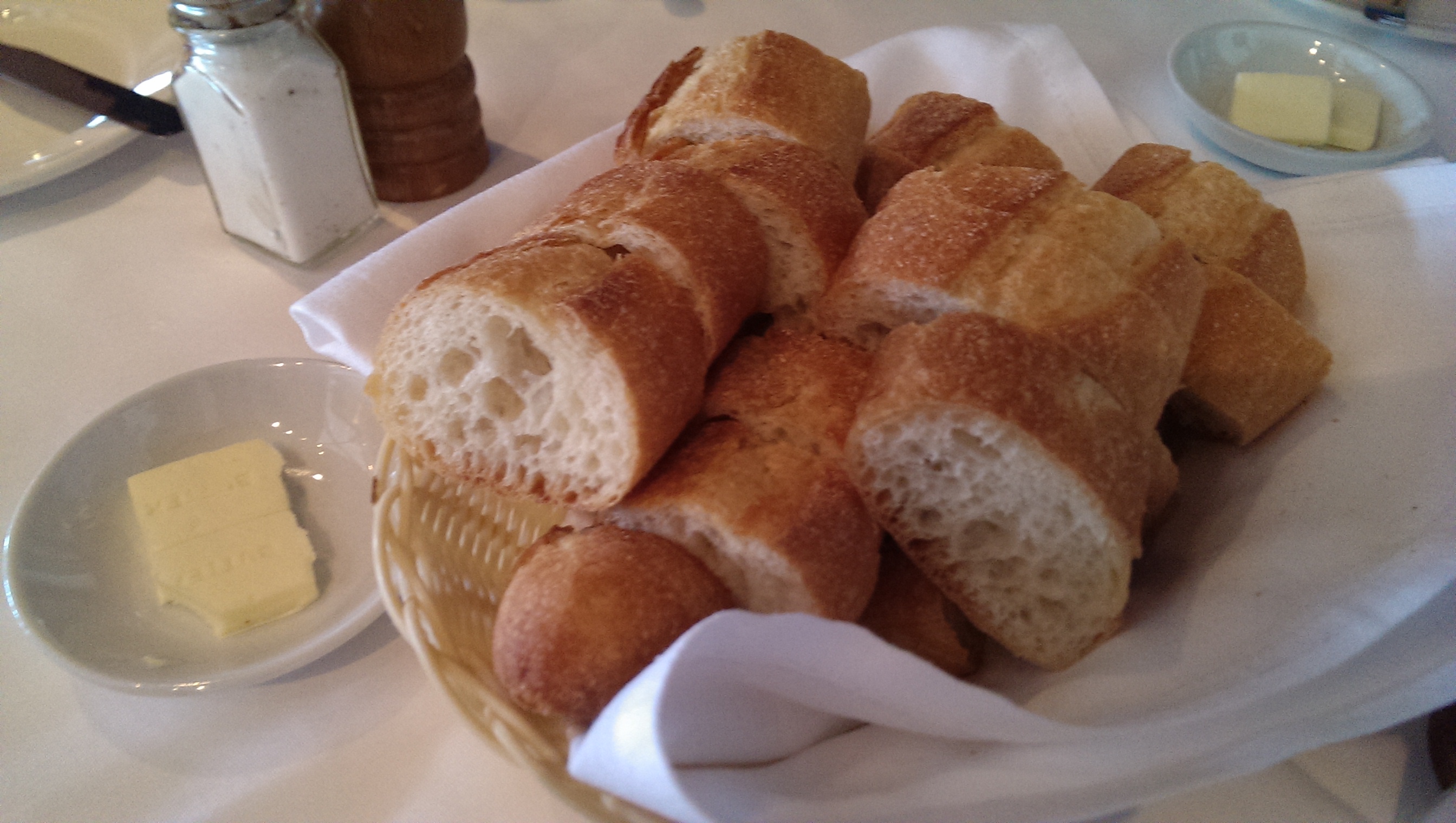 Our starters arrived, and I thought the plating was nice enough, though I noted that the fish wasn't cut in a consistent manner across all our dishes. The tuna came with a kind of soy-based dressing, and the flavours were pretty safe. They complimented well, but didn't stand out. The tuna itself had a typical fishy taste but no apparent marinade.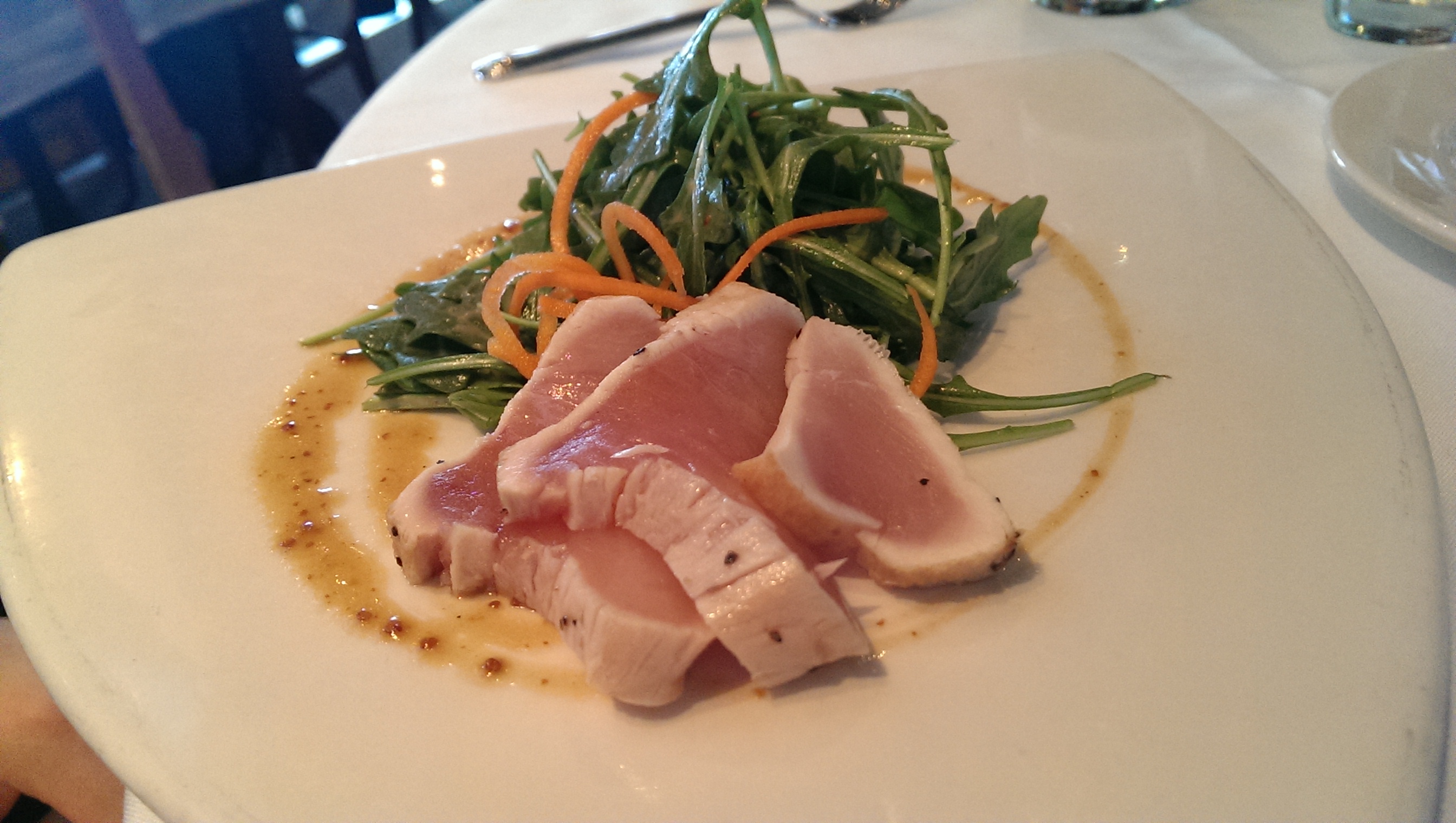 The mushroom soup was quite muted in taste. There was a light aroma to it but it wasn't very strong. There were bits of mushroom dotting the soup, but the texture otherwise was pretty smooth. I didn't find the soup very impressive either, and I was missing the rich earthy flavours from tasting wild mushroom soups.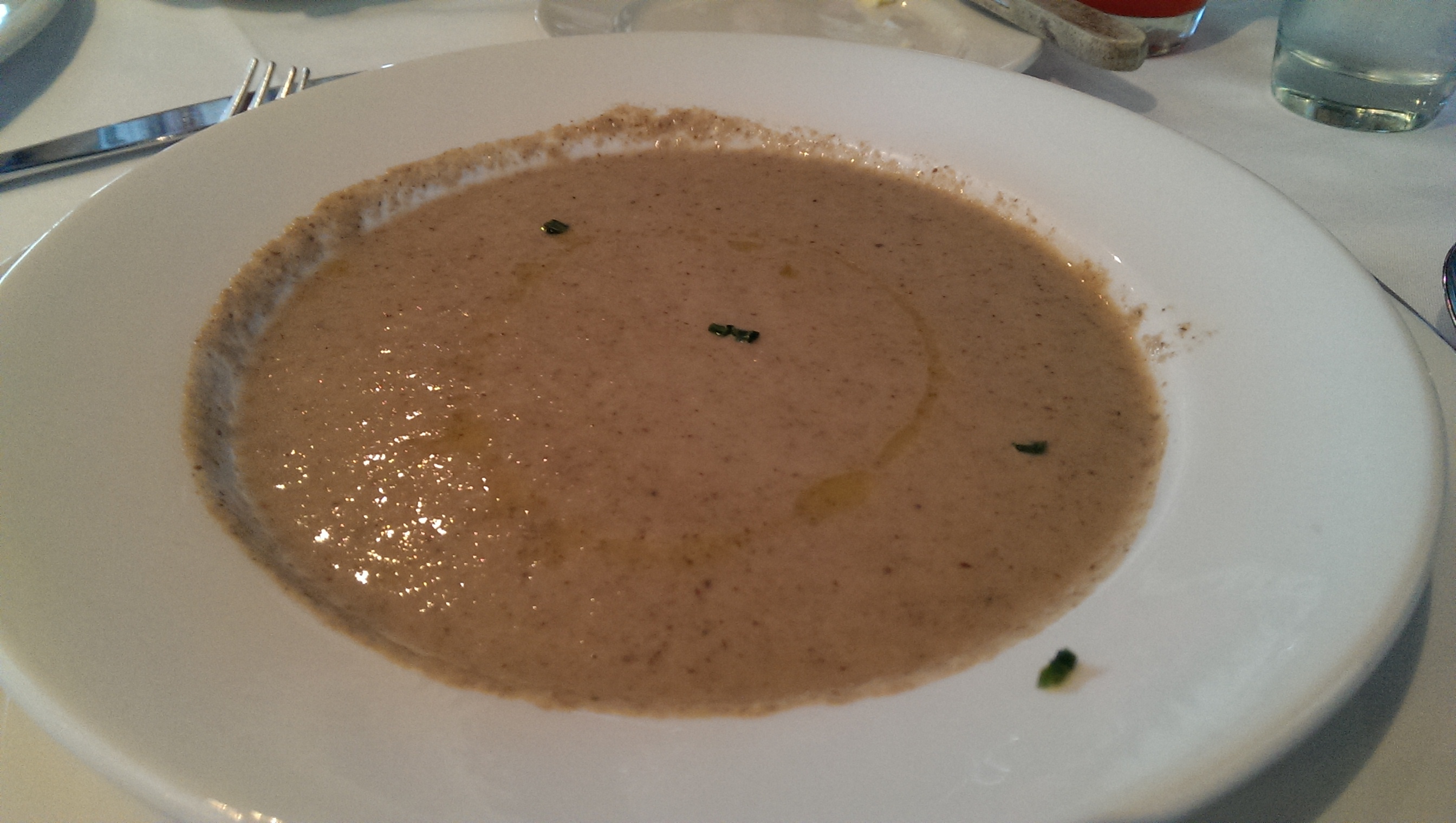 Our mains arrived, with additional bowls available for the shells. I have to give the bouillabaisse credit in that it came with a variety of fish. Traditional bouillabaisse is made from 7 types of fish, and I've run into many establishments trying to pass off a soup as a bouillabaisse when they only serve it with 2 or 3 types (I think it's that 5 is the minimum, but in Marseille they make it with 7 types, and they're supposed to be the mecca for bouillabaisse). In the bowl we had: clams, mussels, a generously sized prawn, a scallop, salmon, cod, and a halved crab claw, which made for the full 7. The soup came with a very crisp and crunchy baguette slice, and softened onion and fennel. The tomato broth was light and the flavour was simpler than I thought it would be. I think it would have been improved by the addition of more herbs and maybe a splash of some white wine to fortify it, but for what it was it was tasty enough.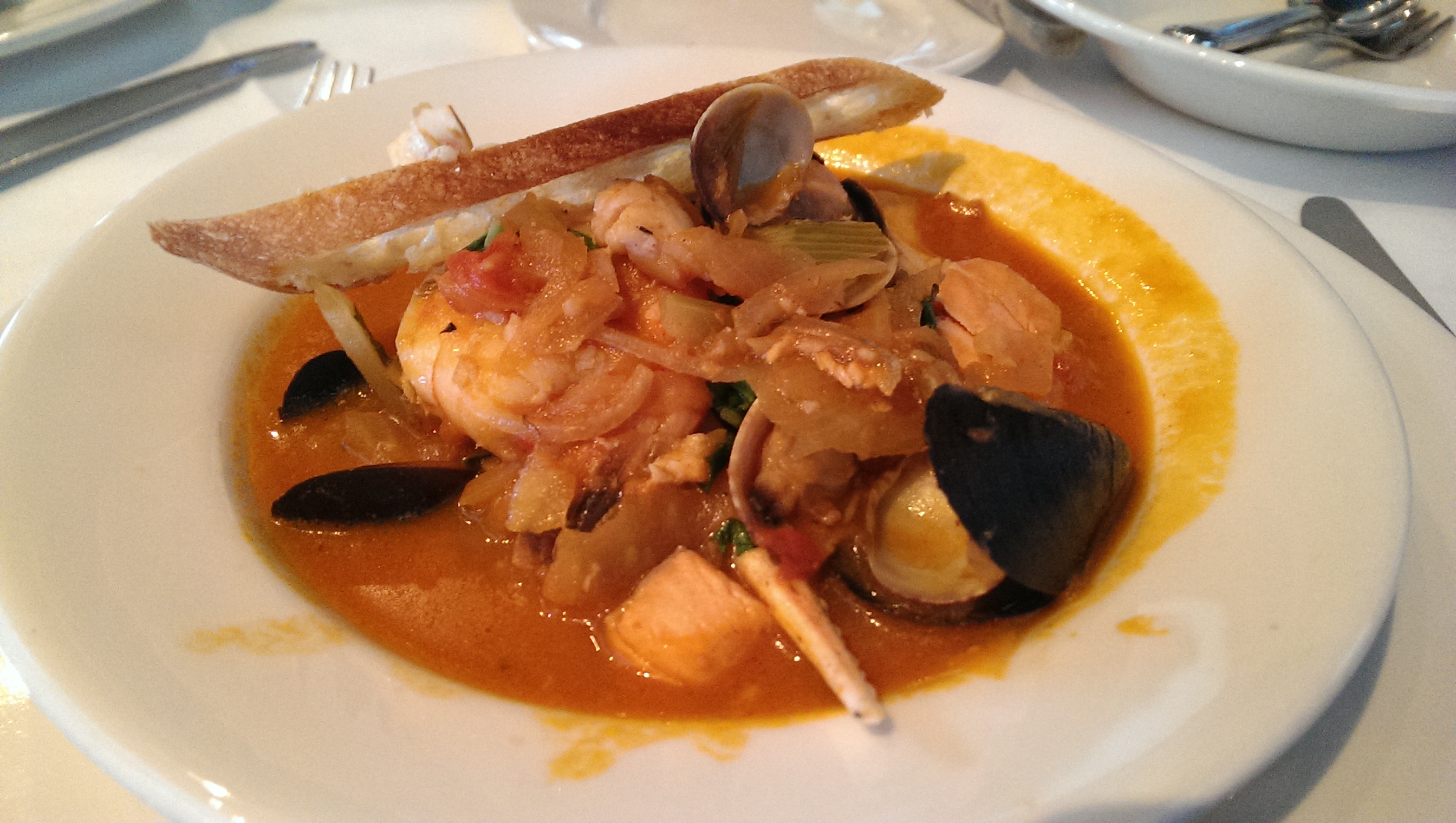 Anata upgraded his main to the 12 oz steak and ordered it medium. It was a little overcooked for a medium except for the thickest part, which was a little disappointing. Because of that, the steak needed to be helped along a bit by the garlic and peppercorn sauce on the plate, as it was a little on the dry side. The mash underneath was done well, and the vegetables were pretty basic. I don't know what the yellow hash was, but it was sweet, and Anata didn't find it to his taste. I wasn't that big of a fan of it either, but it was okay as an individual component. I think it threw the balance of the plate off overall.
I also should add in that at this time, our calamari still hadn't shown up yet, so Anata told the waitress when she delivered our mains to just cancel the order.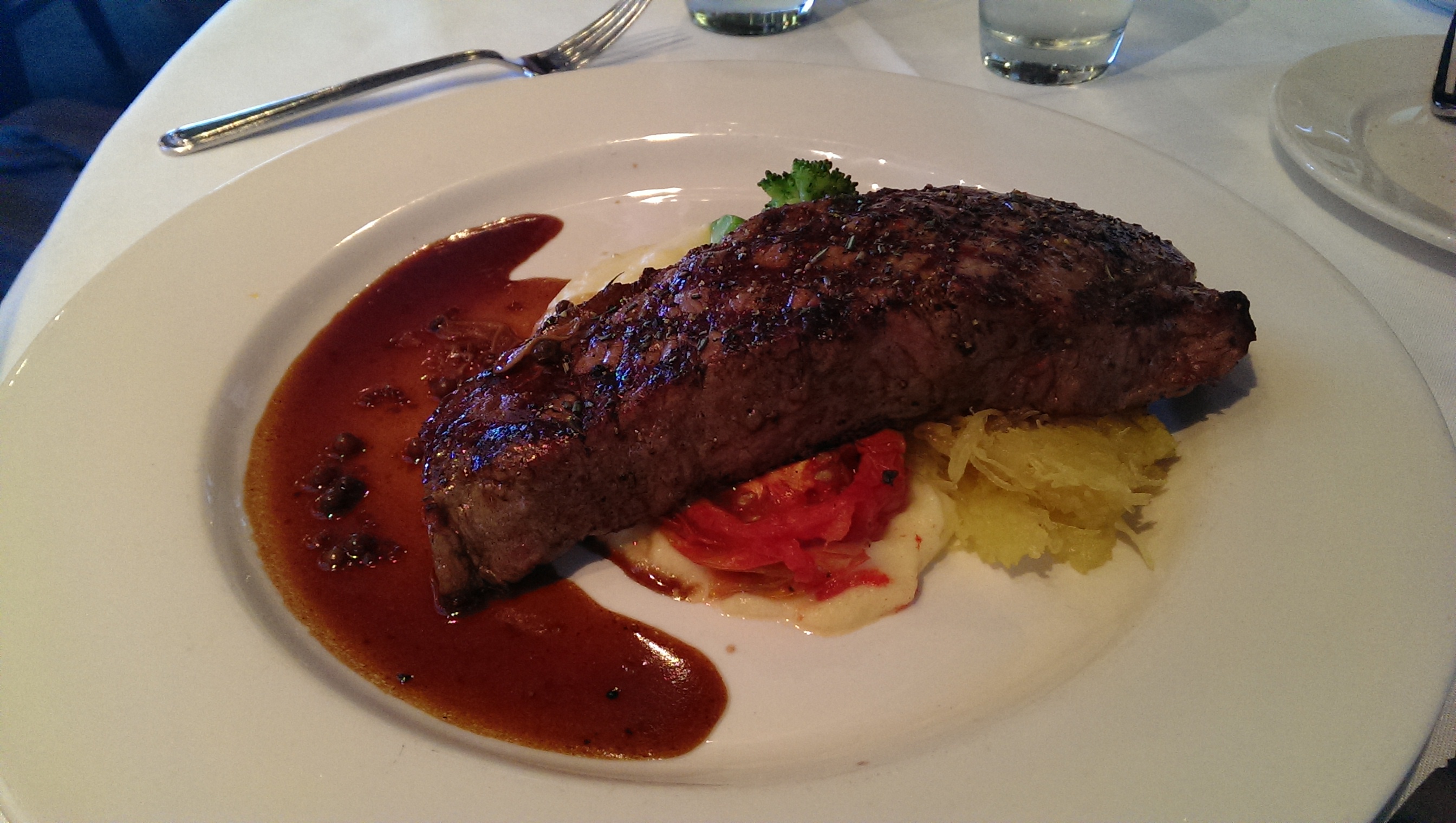 Dessert showed up after that, and we had a slight issue when they arrived as a friend's plate had an extra adornment. Amidst the attractive fruit couilis swirl on the plate stood a tiny insect that wasn't a fruit fly, but something else. Another friend said it looked like one of those insects that are typically found in raspberries. We had to send the plate back and get a replacement.
I liked my chocolate cake, and thought it was done well. I liked the raspberry coulis, and the gooseberry that came on top. The chocolate ganache and truffle were not too sweet. This was pretty well balanced.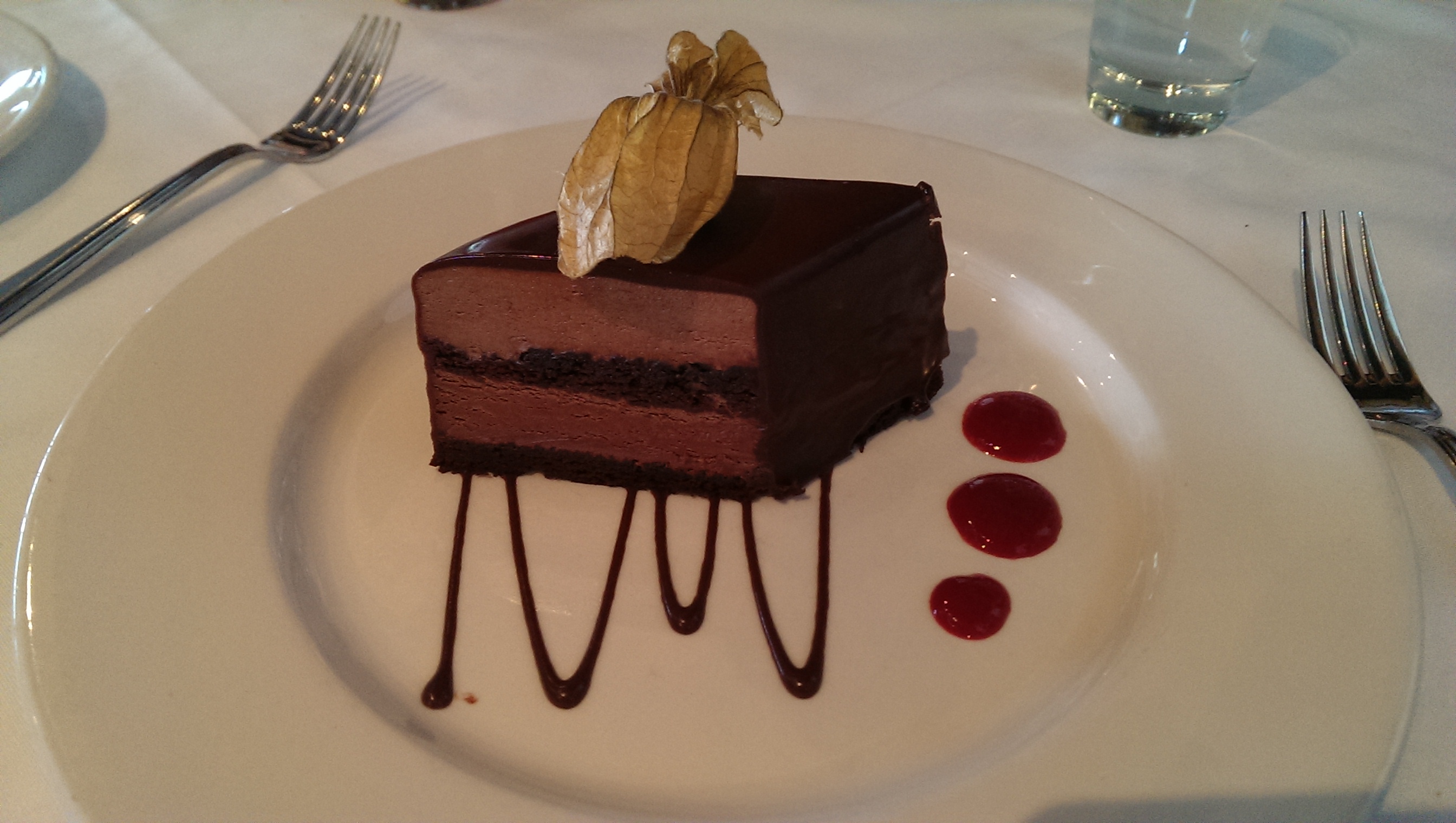 The raspberry cheesecake was rather rich and the general consensus was that it wasn't delightful. I had a taste and thought it seemed pretty typical, but I think it probably wasn't sweet enough so that's why people weren't really fans of it.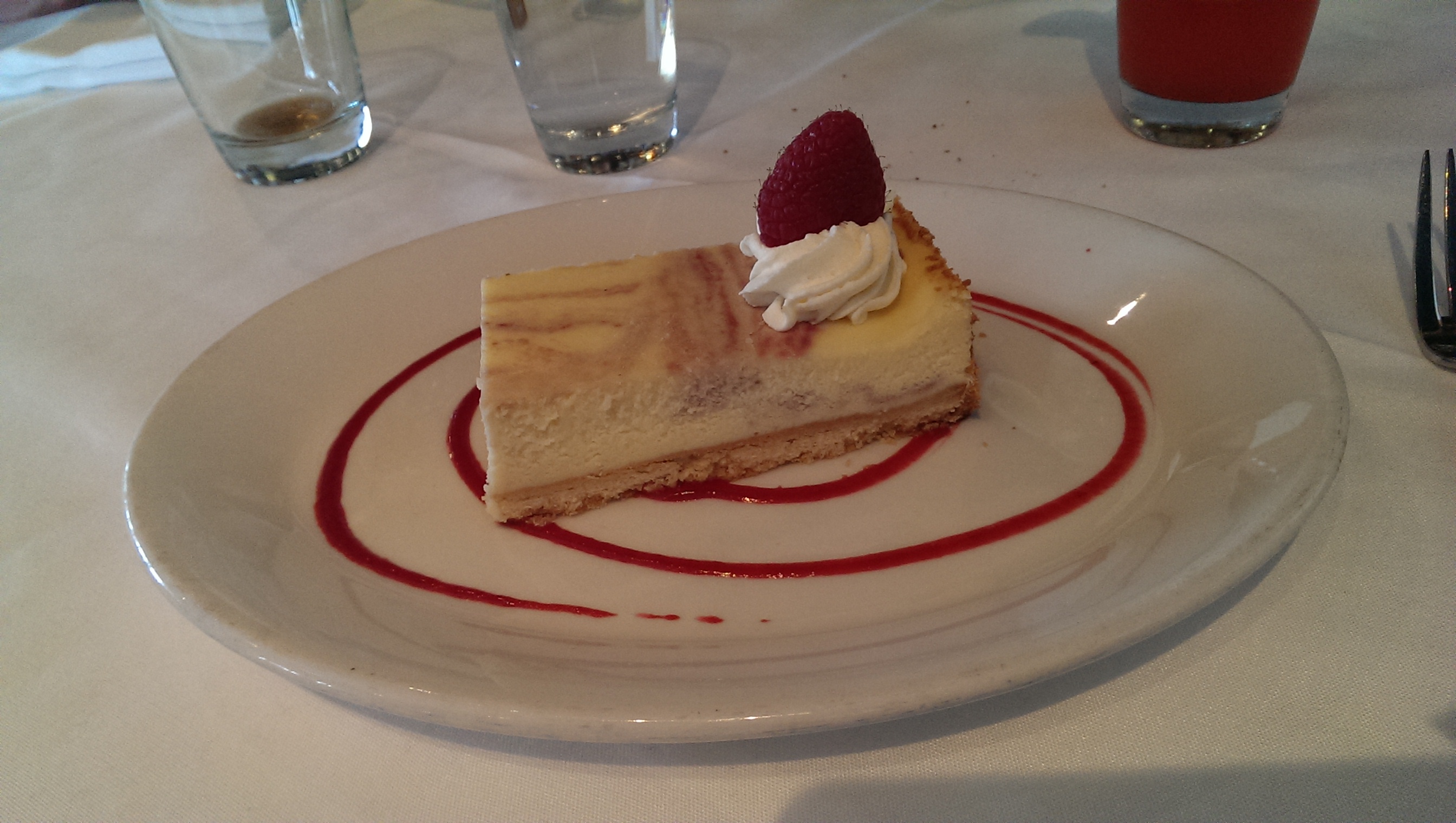 I didn't get a picture of the creme brulée, but I did try a bit of a friend's. I'm not a creme brulée fan and admit my bias, but it seemed pretty typical of all the reasons why I don't like creme brulée: overly sweet, slightly runny custard base, with even more sugar on top.
As plates were cleared, I started looking around wondering where our cake was, and when the receipts were being given out I stood up and had to wander around to find the head of house. I asked about the cake and the status, and it just seems like there was a total communication breakdown between the front of house and the back of house staff. Our main waitress for the table hadn't been informed of the cake, and the front of house came by with a big apology which totally blew all efforts at making it a surprise. He did offer some champagne or wine on the house but we kind of just wanted to leave at the point, with the strange tenseness between staff, the flies, raspberry bug, and parking metres expiring. We elected for the cake to be served just so we could get the pictures and candles, but we had it packed back up right away and ended up going to the birthday friend's house to cut the cake there.
Overall I don't think any of us were that impressed with the food or service at Seasons, and I'm quite sad to say that I think the best thing about the restaurant is the view that we unfortunately didn't get much of that day because of the fog.
We gathered together on a foggy Sunday afternoon to celebrate a close friend's birthday lunch. She elected for Seasons in the Park, so I called in and made the arrangements. Their front of house were friendly and amicable on the phone, so I thought we were off to a good start. I double checked about bringing in a cake and was reassured that they would take of things for us.