The shop is quite small, and easily overlooked. There are three food establishments in the small plaza, which is pretty tight as the space is quite limited. The fare available is a KFC, a Chinese restaurant, and Papa Day's. From what I gather, Papa Day's is quite established and has been there for a while, so they're doing something right!
Dad and I decided on their take out lunch specials, which are available all day for $10.50, and come with your choice of curry, rice, and naan. We picked the lamb curry and the butter chicken, and elected to have them both hot. It was a little surprising and new for us as most places we've been to serve their butter chicken a more temperate mildness, but having a spicy butter chicken was certainly interesting! I'm also pleased to note that their heat levels are a good match for my palate, as I'm pretty used to "spicy" food not quite pinging on my radar (I am not the person at the table you'd want to check with if you want to know if the food is spicy before eating it - if you're more sensitive, my "it's not that spicy" will probably be very misleading!) and have had instances of unintentional trolling for poor Anata and other friends in the past.
Papa Day's did not pass dad's high standards for "best butter chicken in town", but I was quite pleased with my first experience at Papa Day's, and I've called in orders a few times now when I've had the hankering for Indian food. Unfortunately I live too far away out of their delivery area, but it's pretty easy for me to call in and drive to pick up the order.
However, last month, I was having a bit of a quandary regarding what to do for dinner. I was feeling quite lazy and thought pizza might be a good option, but I wasn't sure if I wanted something else instead. I looked over at my fridge where I'd posted the Papa Day's menu, and voila! Problem solved! As it was a Monday, I ordered their pick up special which is two (2) medium pizzas with three (3) toppings each, for $16.99. I also ordered the butter chicken (mild) and palak paneer (hot).
The first pizza was italian sausage, mushrooms, and extra cheese. I was so hungry that I couldn't wait for home, and when I picked up the food I ate a slice right away. A sidenote is that their food is piping hot and fresh when you get it, and stays warm (for the pizza) or hot (for the curries) even when I get home! The toppings were tasty and were of standard quality.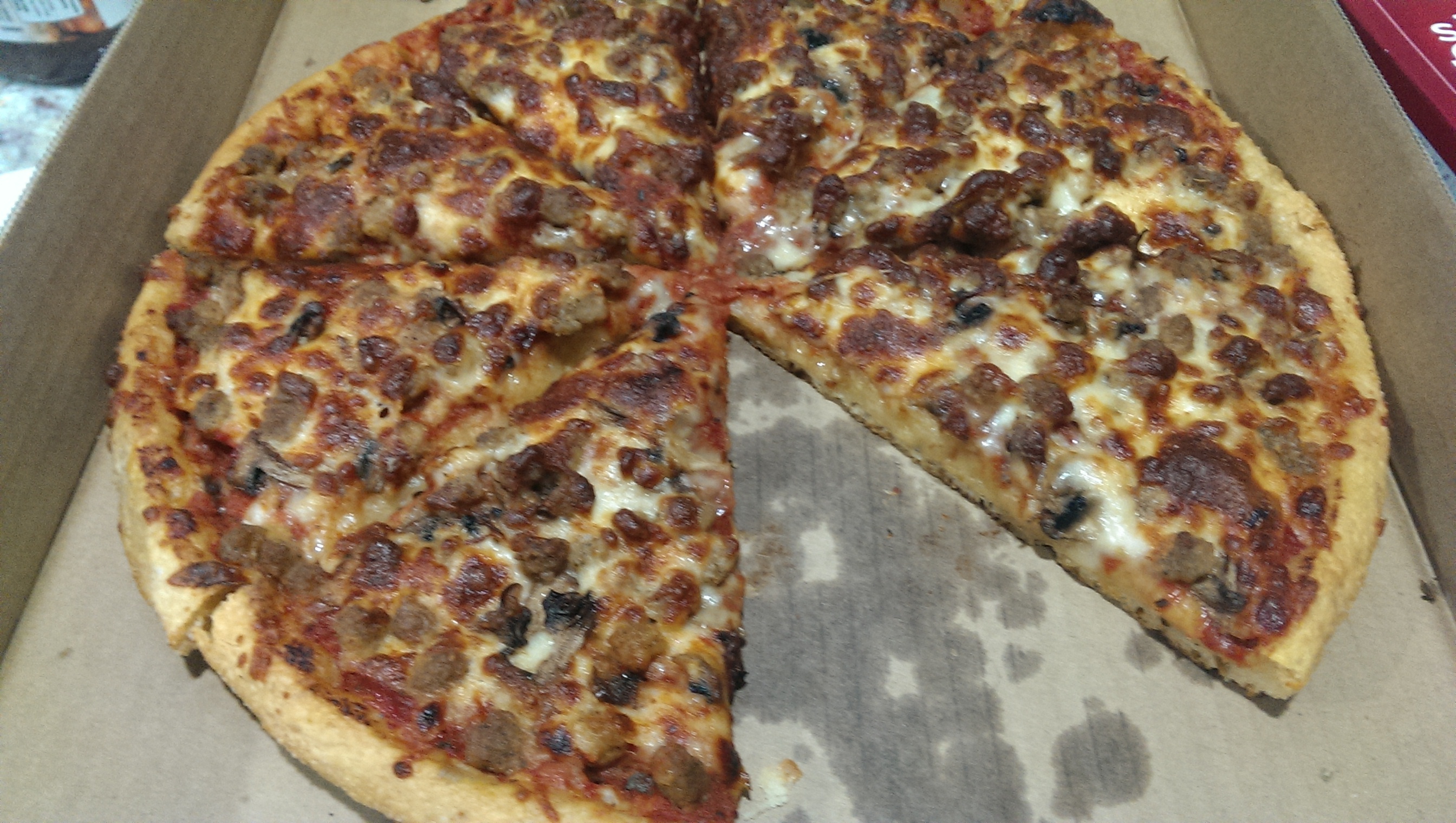 The second pizza had a hawaiian theme going, as I requested pineapple, ham, and chicken. I really enjoy the crusts on the pizza, as it's very reminiscent of the pan-fried, with a bit of chewy and crunchy textures mixing-style crust that I fondly remember enjoying at Pizza Hut in Thailand. It's not quite the same here at local Pizza Huts, but it could be a change in recipe or geographical difference, who knows? I hardly eat at Pizza Hut so it's rather difficult to compare. The crust on Papa Day's pizzas have a lightly fried/baked taste, with a buttery base which makes it very delicious. I enjoyed their pizzas, and have ordered again on other occasions :)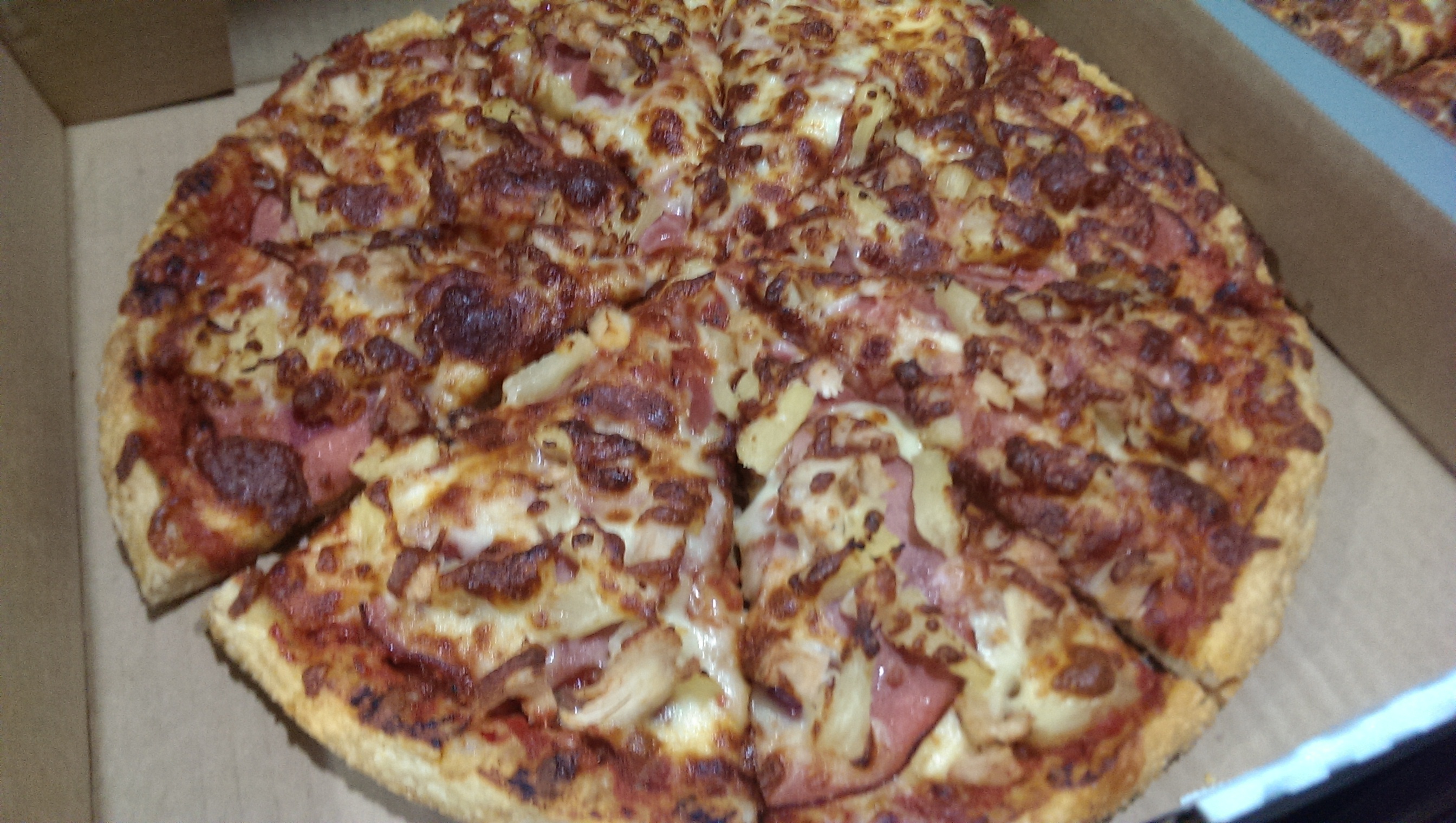 Their butter chicken was their usual standard of delicious: great flavour from the rich cream and tangy tomato base, and the chicken pieces are nice cubes of boneless breast meat. I think it's worth noting as well that the rice that they serve is a high quality basmati. I'm always shocked when I order Indian food and get served Jasmine or some other kind of rice, which has occurred at other establishments. I guess I'm a bit of a stickler/traditionalist in that aspect in that I expect basmati with my Indian curry!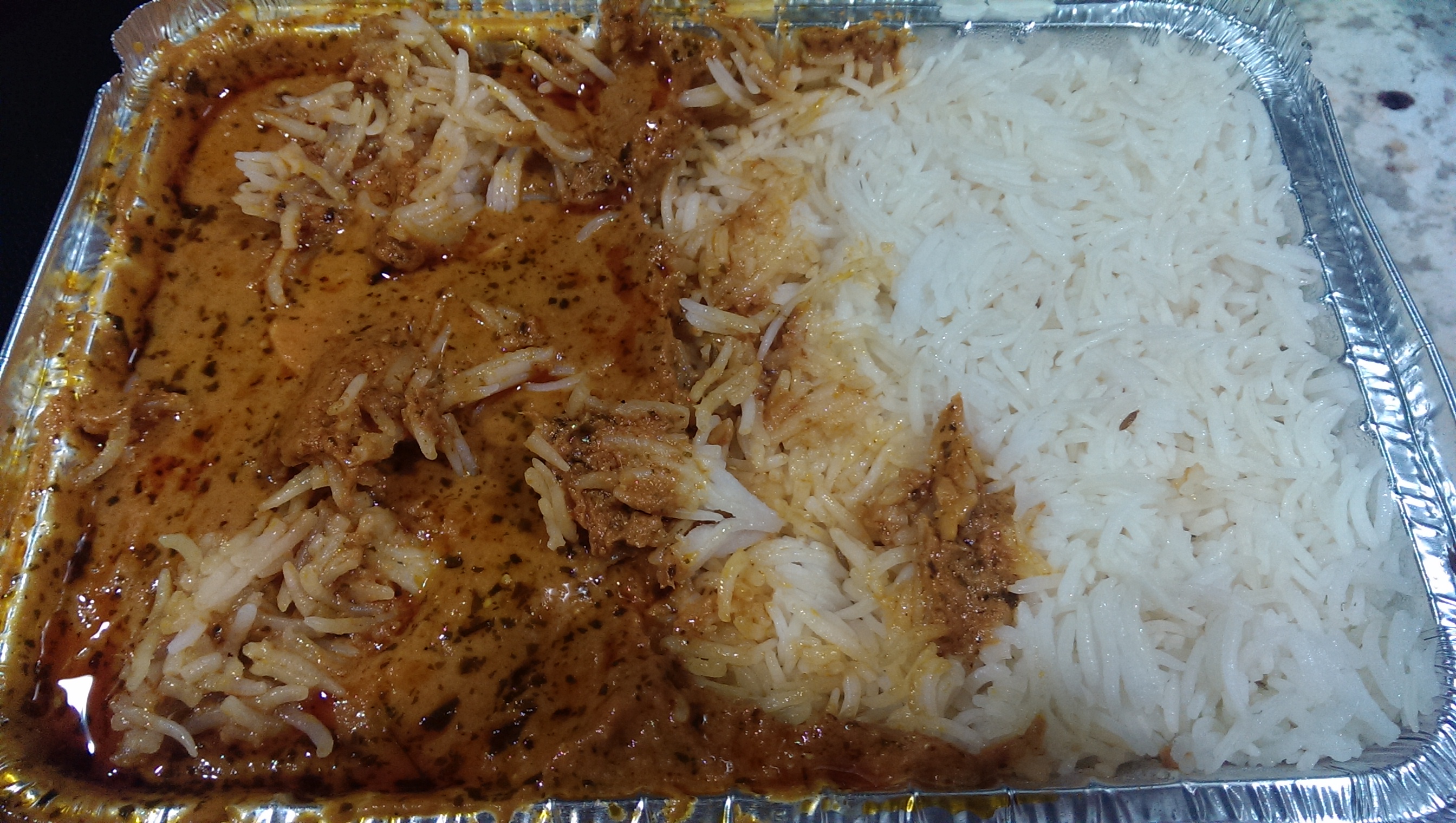 Their palak has a bit of a muted spinach and green taste in comparison to how bold the butter chicken is. I like their cubes of paneer. They don't serve their paneer in the fried style, but add it straight into the curry. However, it retains its shape well and doesn't end up dissolving into the curry like I've had before. Both are good, but it's just to note that the paneer retains its texture without having been fried. Every now and then I find little bits of the spices that have been used in the curry crunching in my molars, haha. I think it was anise/aniseed that I was crunching, but I'm not too certain.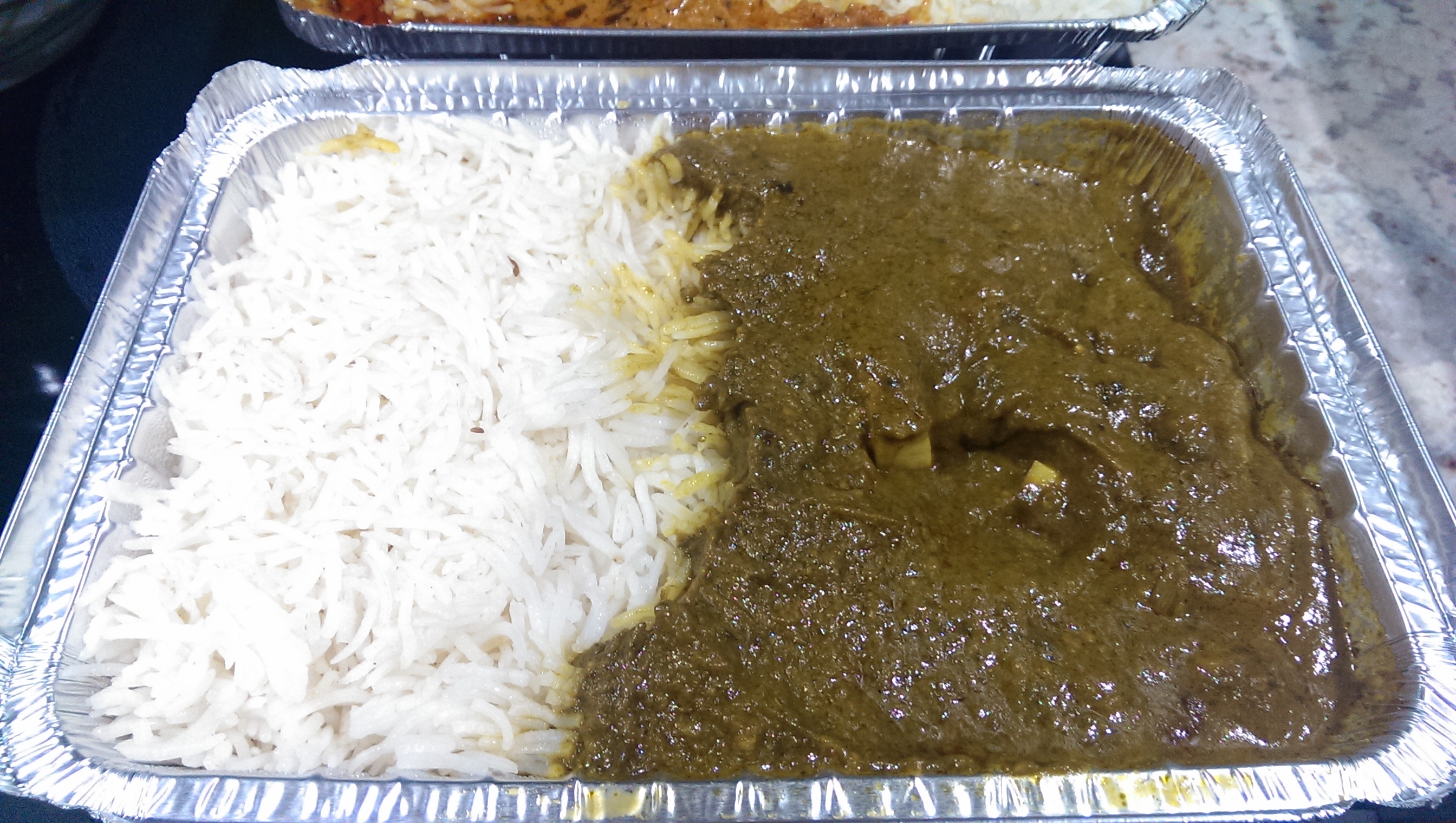 The trays are layered with rice at the bottom, and the curry on one side and the rice on the other. My initial reaction was "hmm", thinking that maybe it was a bit too much rice, but after a eating it a few times I realised that the rice-curry ratio was pretty spot on.
My go-to place for Indian take out, with pizza every now and then :)
Sometime last year whilst driving down Knight St, my dad noticed a sign on the outside of a small shop proclaiming that they sell the "best butter chicken in town!" As we're a fan of Indian cuisine (well, not only - dad's a huge fan of bollywood movies as well), we thought we'd drop by for lunch the following day. I hadn't seen the sign or noticed anything before when driving by in the past, but I followed his directions and found myself in a little plaza at the corner of Knight and 49.