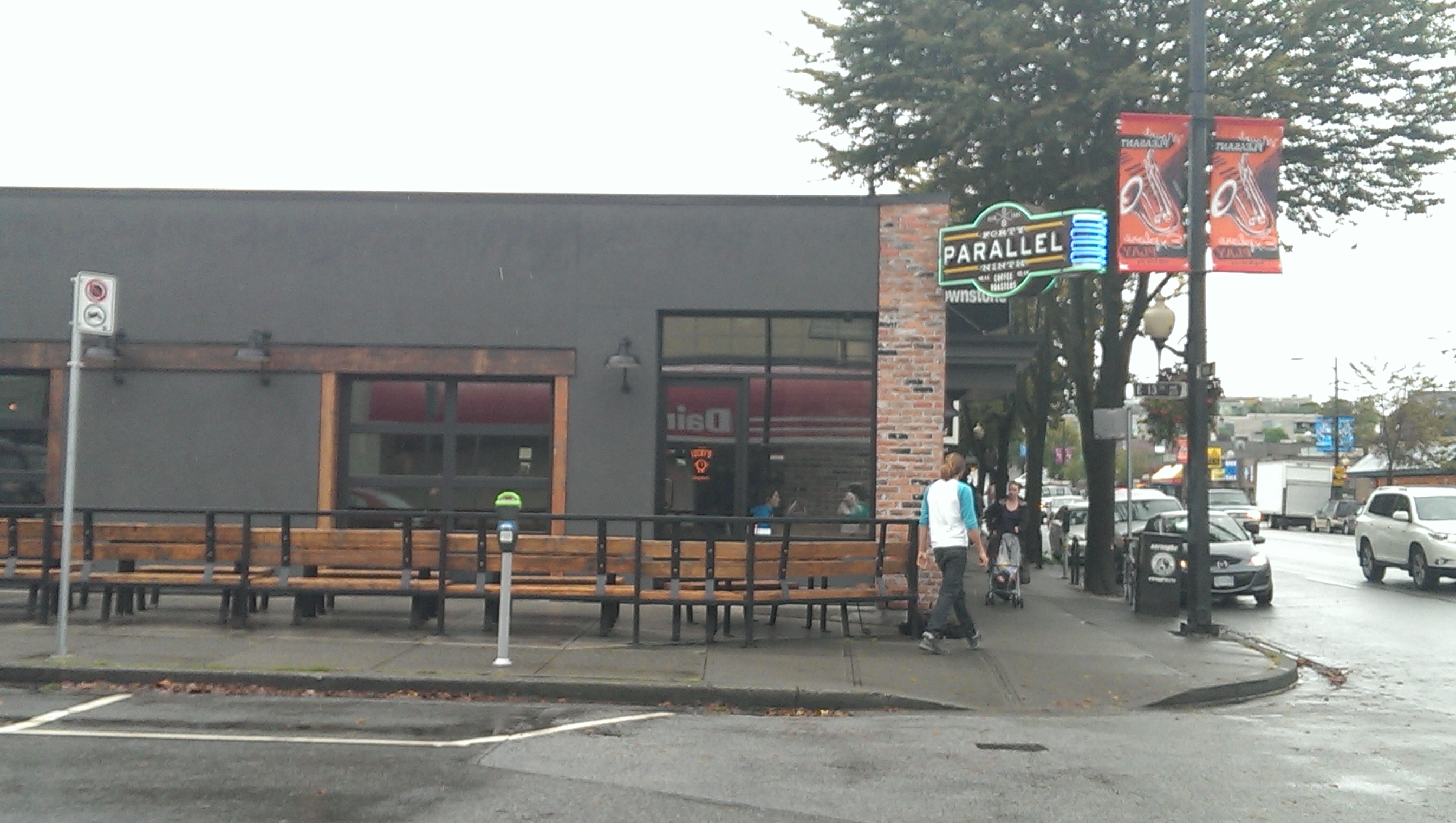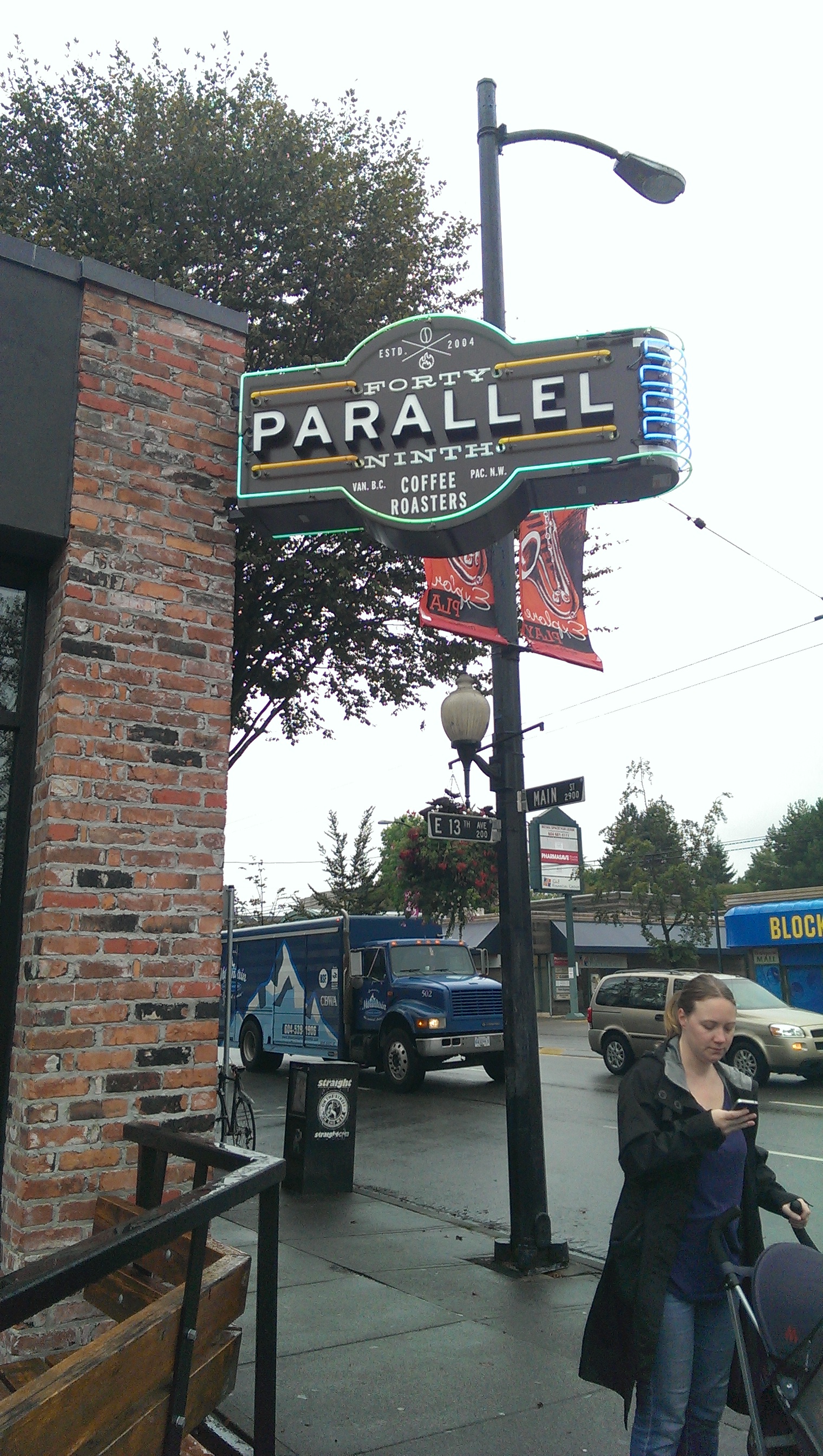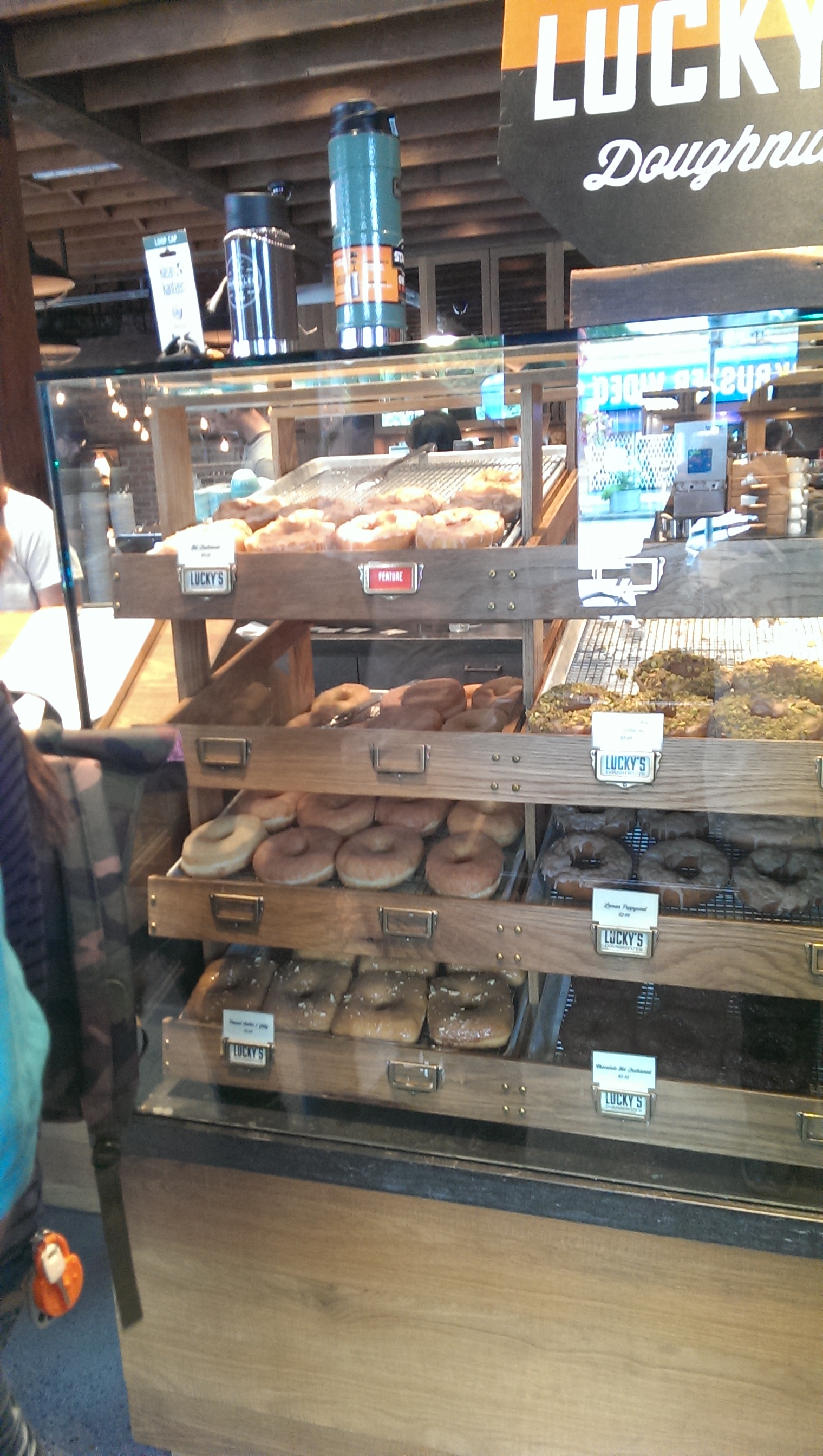 I'm not much of a coffee person, but I figured I might as well get a coffee since I was in a coffee shop. Might as well try it :P I got their Ethiopian Espresso that the clerk claimed was rich and had strong notes of blueberries - I'm a kind of girl that puts shitloads of sugar and cream into my coffee, simply because I can't stand the taste LOL, usually because I find coffee very sour and bitter. It's weird because I can drink any kind of tea that is strong, from bitter to sour to any kind of taste, but there's something about coffee on my palate that just makes me go "ugh". I was pleasantly surprised by the coffee. Because of the base "sweet richness" of the coffee it wasn't so bad. There's a slight tartness and if I really concentrate I could consider that fruity/floral undertone as "blueberry", but it's very subtle to me. The aroma was really lovely.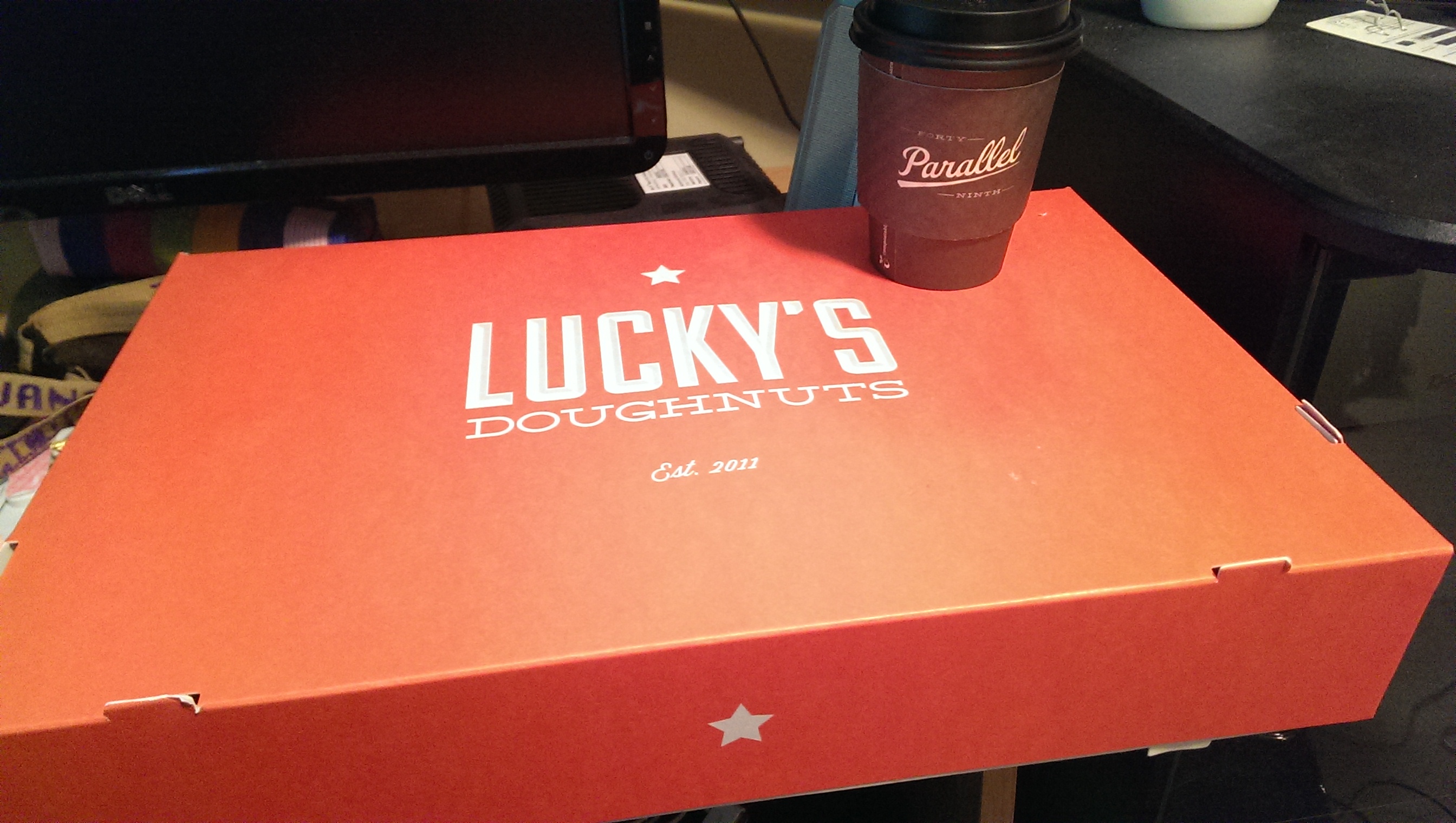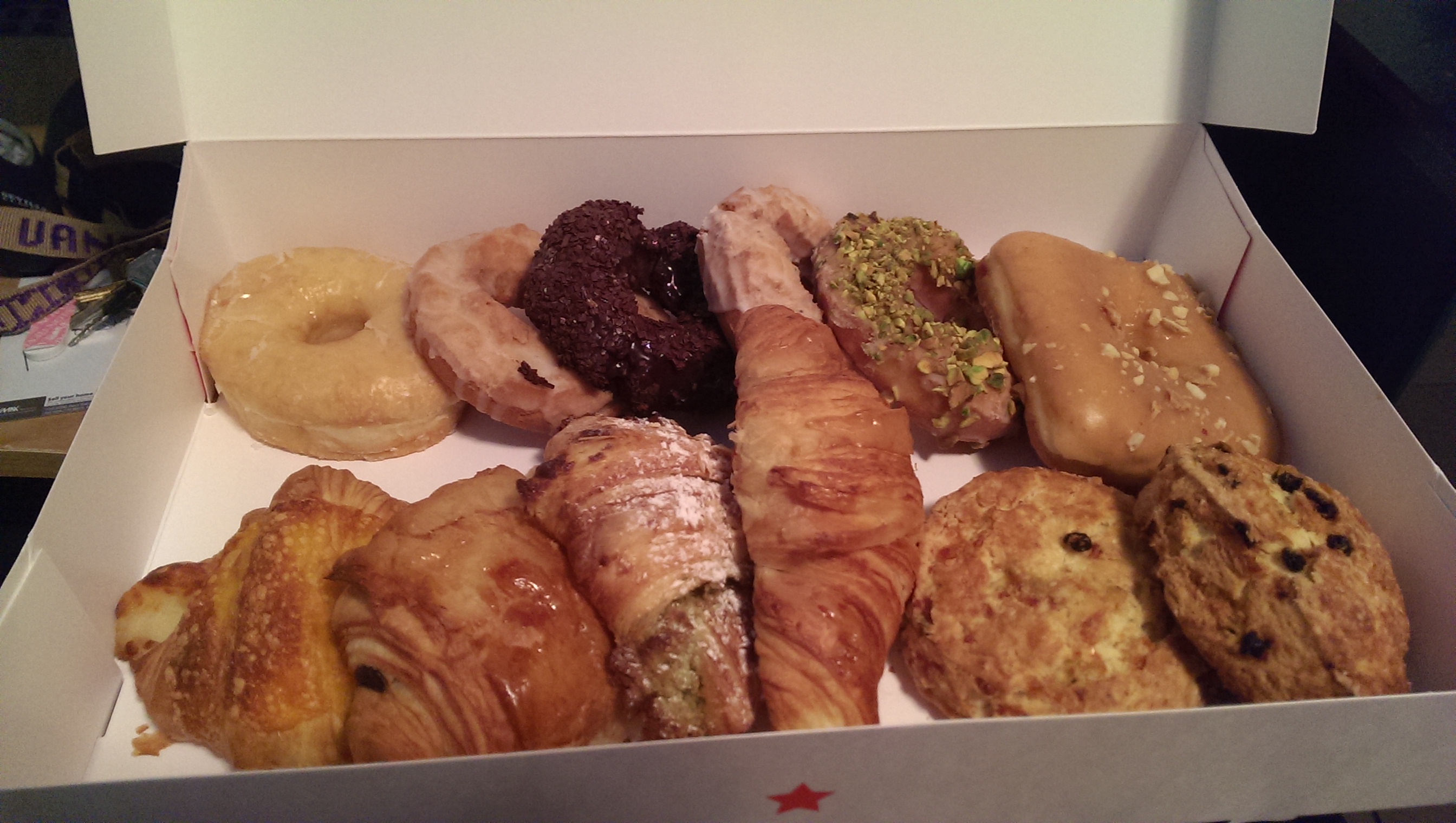 I bought one of everything they had in the case, which might be overload I suppose, but I wanted to get a comprehensive idea of the selection they had on offer. They claim that they try to use local goods and create a selection based on the season, so I wasn't expecting their mango curd doughnut to be available (which is wasn't). Too bad none of their bismarcks were on offer - I would love to have been able to try their tiramisu or coconut ones! Oh well, another time. Or a special order event :P

In the box today:
Glazed, Old Fashioned Cake, Chocolate Old Fashioned, Lemon Poppyseed, Orange Pistachio Honey, PB&J
Ham Cheese Croissant, Chocolate Croissant, Pistachio Almond Croissant, Butter Croissant, Savoury Scone, Feature Scone (currants)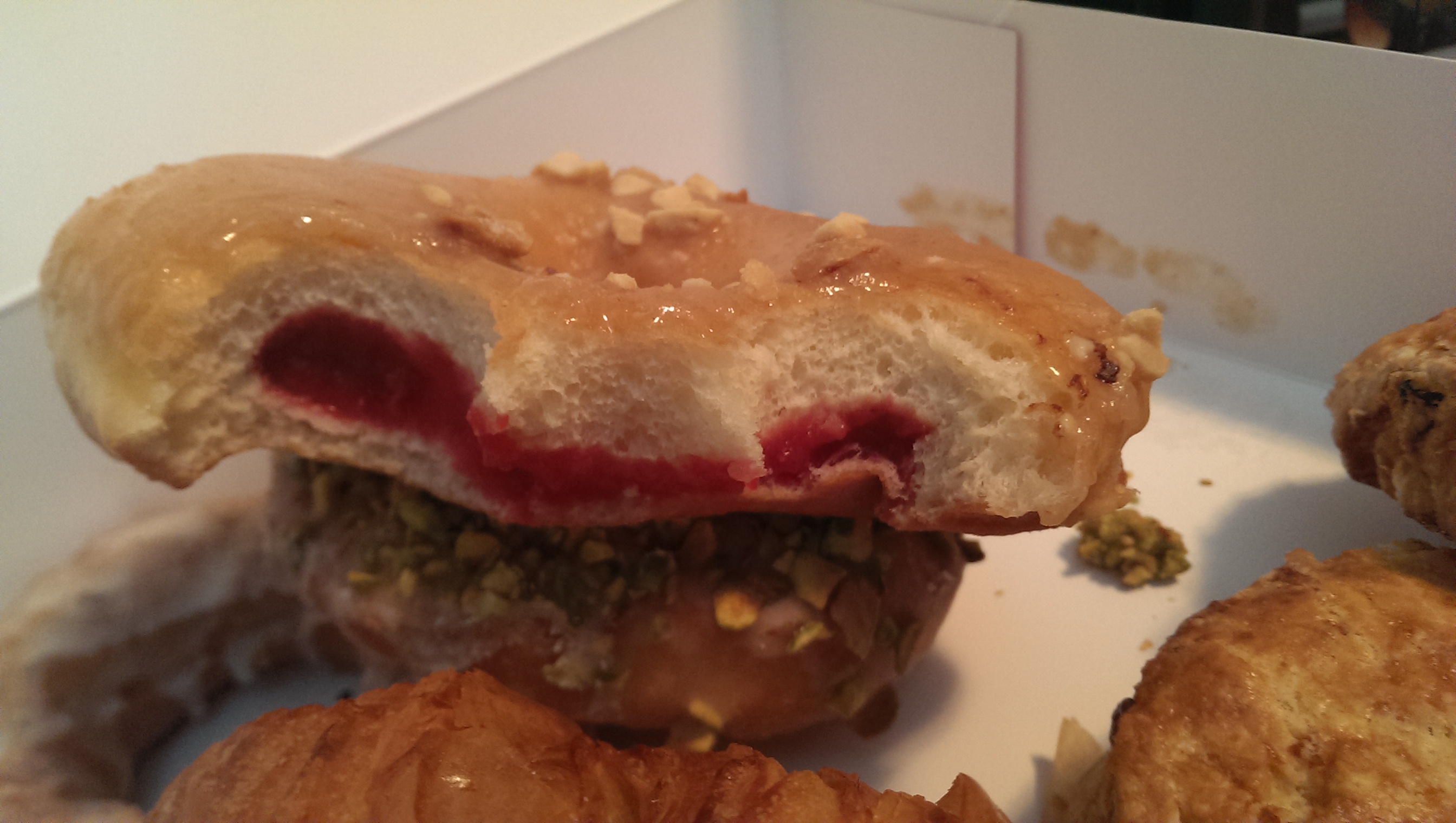 PB&J: I love how the doughnut is filled all the way around. They definitely don't skimp on their ingredients! The peanut butter is glazed with real peanuts as a topping. The jelly is a raspberry jam that brings a good tartness to balance and cut through the richness of the doughnut. It's lovely and messy!


The Chocolate Old Fashioned is a beautiful balance of chocolate and sweetness. It's not too sweet, but has a rich chocolate flavour - the glaze and chocolate flakes simply add to the doughnut rather than overwhelming me. I think this one is my favourite of the bunch.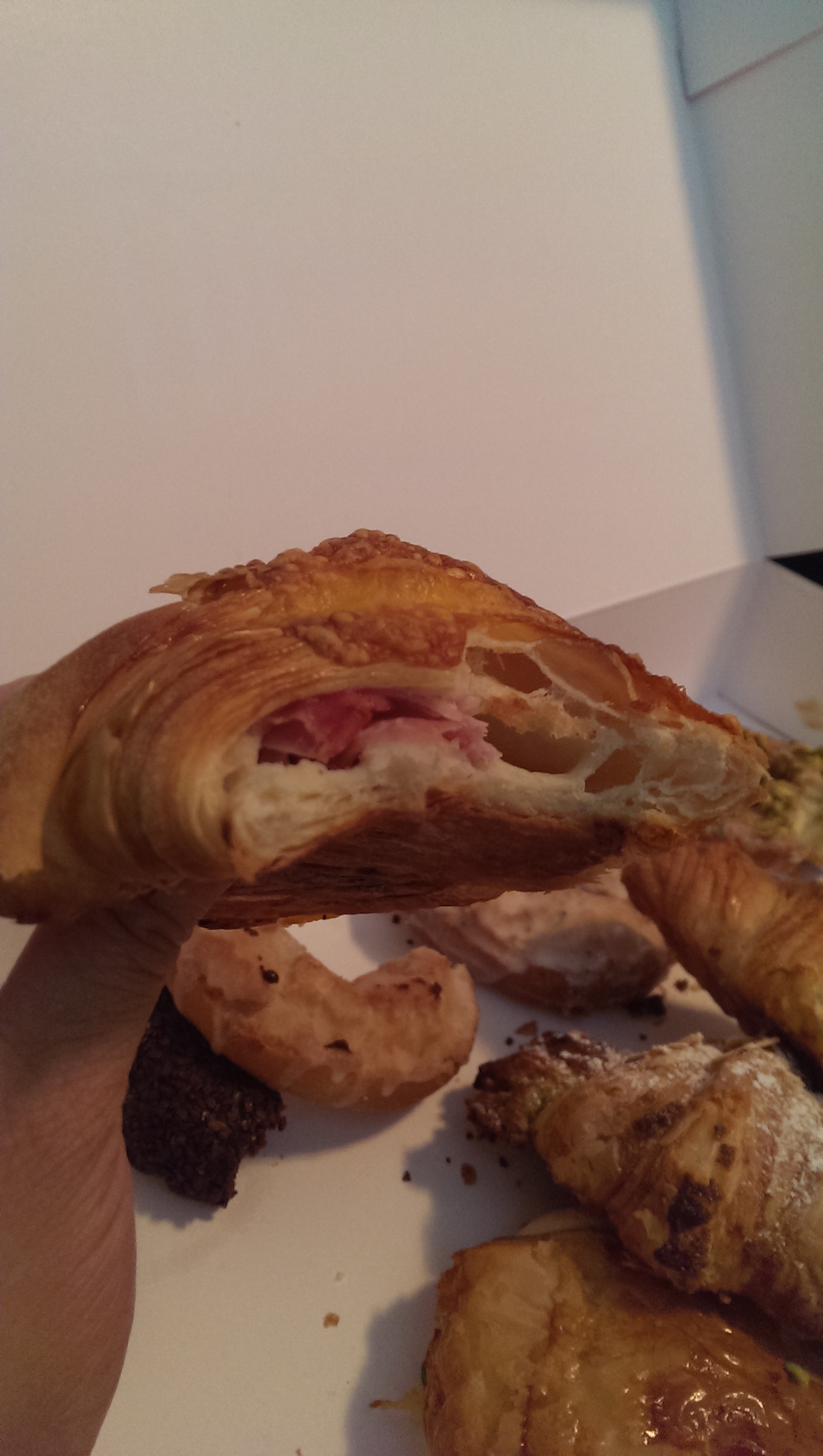 The Cheese Ham Croissant is yummy and kind of rich because of the cheese. The pastry is nice and flaky on the top, but the bottom part is kind of thin, I think because of the way the ham and cheese weigh it down. It was a nice savoury counterpoint to the sweet goodies in the box.

Anata and I downed the glazed doughnut so quickly I wasn't able to take a photo of it, haha. It was delicious. The glaze wasn't overpowering, and the pastry itself was thick and chewy in all the right ways. It was pretty much the opposite of a Krispy Kreme doughnut for all the right reasons. I tasted the Orange Pistachio, and while the orange was a nice lightness, the overall flavour wasn't to my taste. It was a good doughnut, but I wasn't that impressed by the final execution. The scones also were not to my liking - typical of scones they were kind of dry and heavy, and I was just wishing for some good old clotted cream and tea to moisten and lighten them up.

Overall, I was impressed with the quality of the doughnuts, and the way they balanced their flavours and sweetness. I definitely recommend trying their doughnuts!

Chocolate Old Fashioned: 5/5 (perfect balance of sweet and rich chocolate)
Glazed: 5/5 (chewy, thick, not too sweet)
Orange Pistachio Honey: 3/5 (tart, orangey, just not a flavour I really liked, but executed well)
Ham Cheese Croissant: 4/5 (light pastry, good butter base)
Old Fashioned Cake: 4/5
Scone: 3/5 (average)

Doughnuts overall: 4/5
Croissants overall: 4/5
Scones overall: 3/5 (meh, typical standard)
Since today is completion day for the condo sale, I thought I'd celebrate with a bit of tasty sweetness for the day! I dropped by Lucky's Doughnuts since I've been wanting to try their doughnuts for a while now. The place is located at the 49th Parallel Coffee shop at Main st and 13th St, and is a really nice looking place. Entering the doors, there's a lovely aroma of coffee and baked goods that permeates throughout the shop. The inside layout is inviting, with a myriad of seating arrangements sure to please anyone. The back of the shop has a fireplace with couches, there are stools arranged against the window, small tables, and a huge, long table for large groups. The doughnut prep area at the back has a clear window so you can see the people making doughnuts. When I arrived, the man was making their peanut butter and jelly doughnuts and was dipping them into the peanut glaze.